It's amazing what a single video clip can do to your dreams, bucket list and bank account. A few years ago, I watched this phenomenal video of Neil Patrick Harris performing the opening number of the 2013 Tony Awards.
At timestamp 5:31, he says "See, on Broadway, we don't need extreme closeups to prove we're singing live. We sing live 8 shows a week, check it!"
… and then I thought, you know what would be cool? If I manage to watch 8 shows a week.
AND SO I DID. It took me about 6 years, but I got here in the end.
The rules:
Buy tickets for the shows which I definitely want to watch for a stress-free experience.
At least 8 musicals. (You can see that I managed to watch 10 shows in total, thanks to different schedules for 'rest' and 'matinee' days)
Of the 8 musicals watched, 4 of them must be ones I have not heard the full Broadway recording/do not know all the lyrics to.
The remaining 4 musicals can be anything/whatever that is "cheaper"/affordable.
Try sitting at different sections, wherever possible for the "experience".
I broke Rule #1 right off the bat 🙈
The thing is, I could not buy them in advance because they were too expensive. 5 shows at a standard $99 would set me back $495, not including online "convenience" fees (at least $15 per transaction + I can't buy them altogether in one purchase, which is ridiculous to me).
So the entire trip turned into a spontaneous money-saving trip and I had to start researching about getting cheaper tickets.
I learned so much, I actually put all the tips into a guide on how to get cheaper Broadway tickets.
The guide is more formal. This post is a photo diary of some sort.
The Strategy
I arrived in NYC on Monday afternoon with only a ticket to one show on Tuesday night.
I entered every single lottery out there from Monday to Sunday, except for that Tuesday.
As each day passes (and I get the result that I did not win for the day/next day performance), I'll buy tickets to either… a) the musicals which I really, really want to watch or, b) the ones that do not have lotteries (because it would really suck if I would buy tickets for a show and then win the lottery later during the week).
If I happen to win tickets to Hamilton, even if I already did have a ticket to a show on the same time, I would choose Hamilton. Because Hamilton.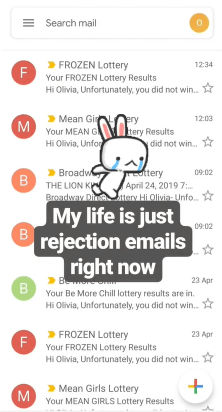 ---
Monday: Head to the box office to see if there are rush tickets still available.
No lottery win. My game plan was straightforward. Mondays are "rest days" for most musicals, with only 3 shows which I'm interested in.
I already have the 3 shows in my mind. How? Because I've made a freaking list of course!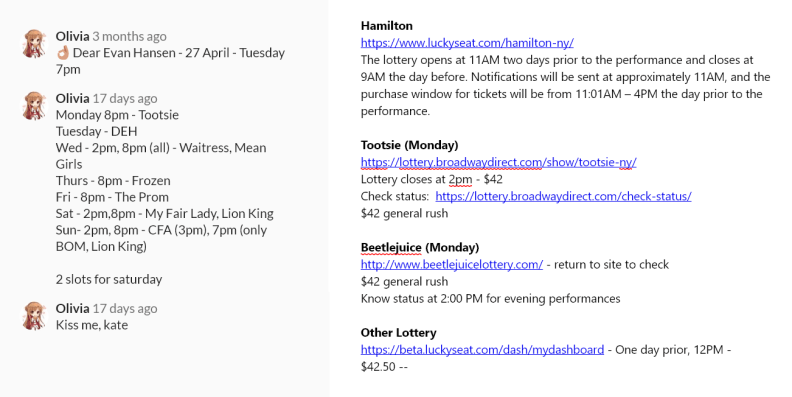 I settled on watching Tootsie. It's got good reviews online and it's a "fun" musical. I always prefer a stress-free musical. My least favorite musical is Les Misérables because all the songs are depressing AF.
I digress.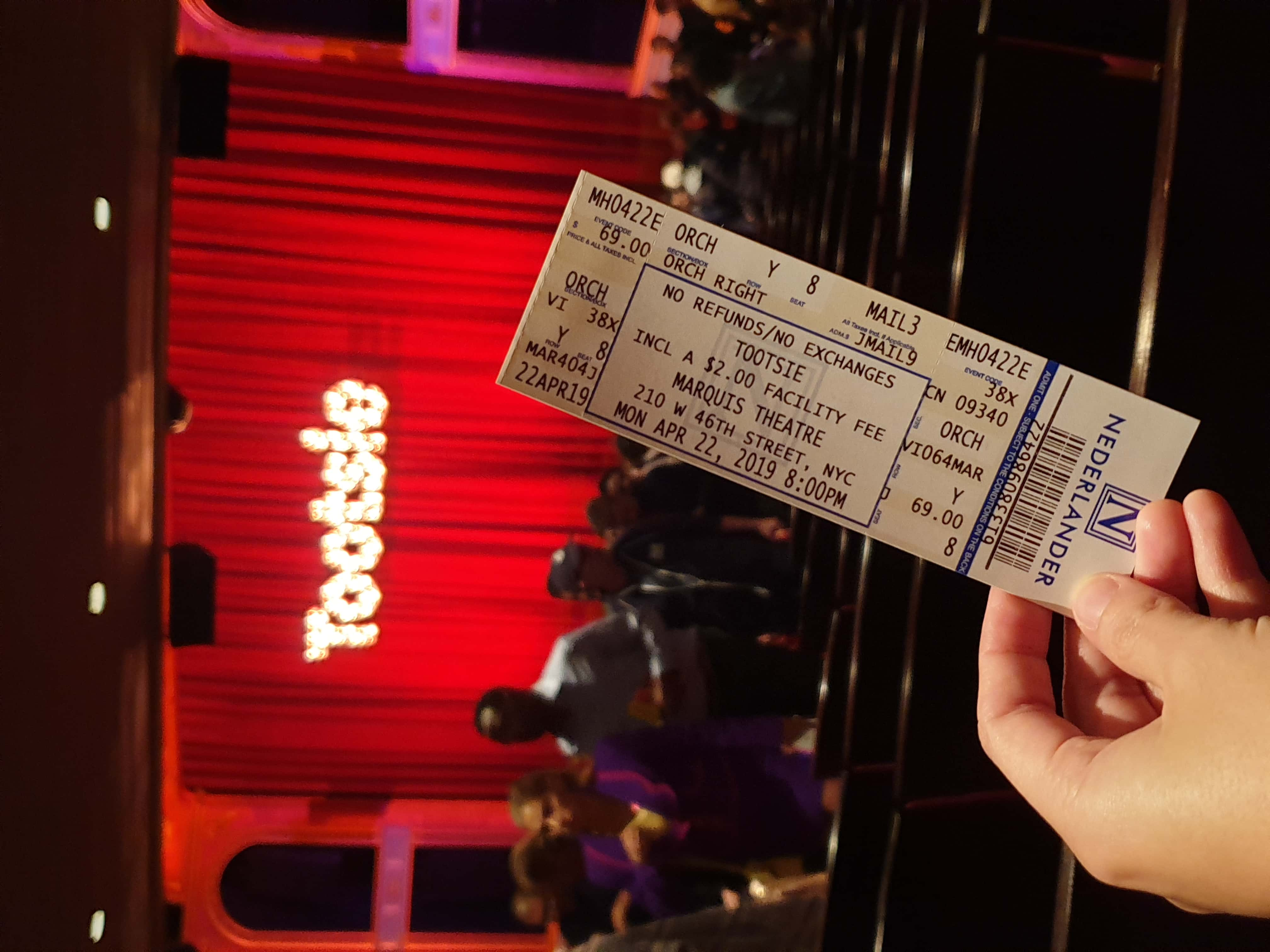 It was fun, indeed! Wouldn't say it changed my life in any way, and I didn't walk out humming any of the songs. The cast is great, for sure. No stage-dooring today!
---
Tuesday is a Stress-free Day
Other than the sadness of not winning more lotteries.
I paid some good money for Dear Evan Hansen. I bought tickets online beforehand because it was one of my favorite musicals. They also do not have general rush and I just thought that tickets are more likely to sell out.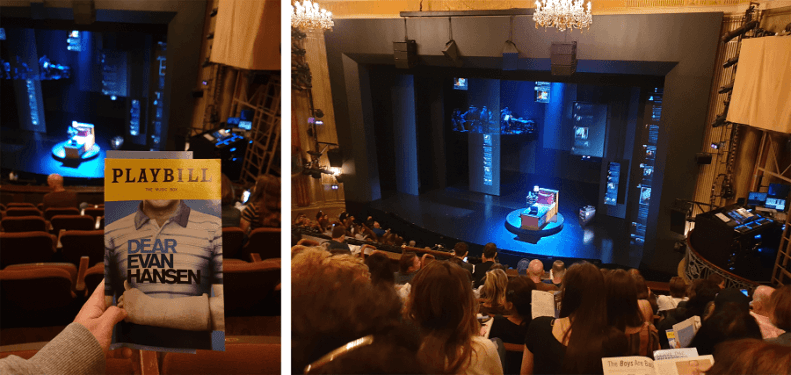 One of my most disappointing shows for the week. Background music was so much louder than the singing. Acting was just so-so.
I was so disappointed, I decided not to wait at the stage door as well.
---
Wednesday, Hectic Day! Despite Wednesday being the day for two shows for almost every musical, I could only watch one as I had dinner plans with a friend.
I decided to try to queue up for Waitress, my most favorite musical ever and I knew my brain wouldn't shut up about it if I waited till the end of the week. They also do not do lotteries so this was a no-brainer.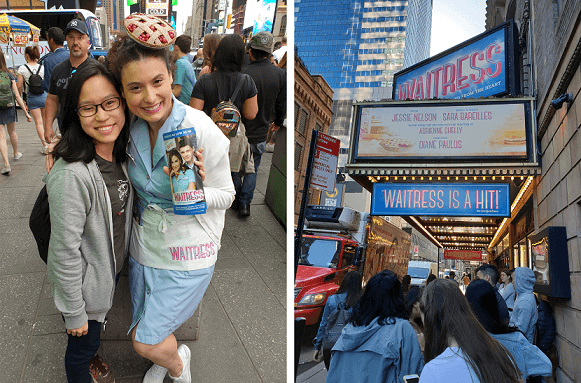 While waiting in line, I was very conflicted. Favoritest musical ever– shouldn't I fork up some money to at least get some good seats? I didn't know what seats I would get with general rush.
Well, eff that. I got Orchestra seats (the front seats), and not partial view! If I was any more emotional that day, I would honestly find a corner and quietly sob in happiness.
I think it was sort of partial view, but because the show uses mainly the center of the stage, you can see most of the show. I would love to see more of the props though (3rd row = you're looking up towards the stage = you can't see the items on a table. It's a musical about baking- there are a lot of items on the table). But I can't complain, 3rd row for $42!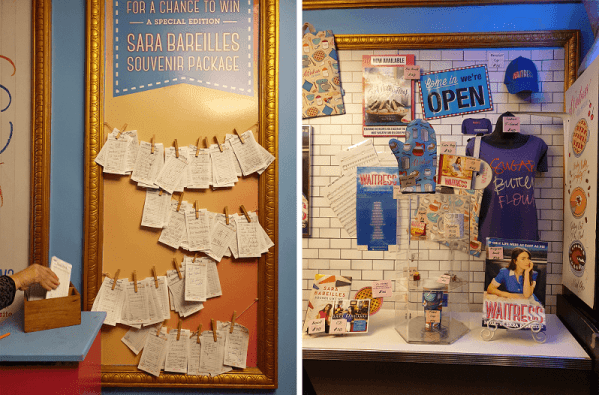 It was so good, I spent the next few days contemplating if I should watch it again with better seats. I've watched this musical a lot of times (cough don't ask me how). I know the lyrics to all the songs, I know the scenes, I know the script, and it still managed to awe me.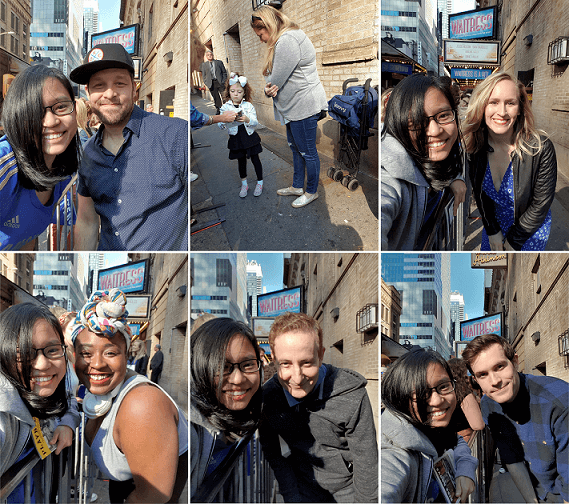 Of course I would stage-door. I was most excited for Jeremy Jordan (Broadway superstar) but he was on vacation. That being said, absolutely adored this cast.
---
My dinner plans ended at 7.40PM. Most shows start at 8:00PM. Should I try to watch a musical? YES I SHOULD.
I tried Come From Away as it was also one of my must-watch but the box office attendant told me the show started at 7PM (oops). I just about gave up, because I thought the ROI of walking to every single theatre wasn't that great.
On the way back to my hostel, I passed by the theatre for the musical The Prom.
I just walked into the box office and asked if they had any tickets.
I was seated in the theatre 8 minutes later.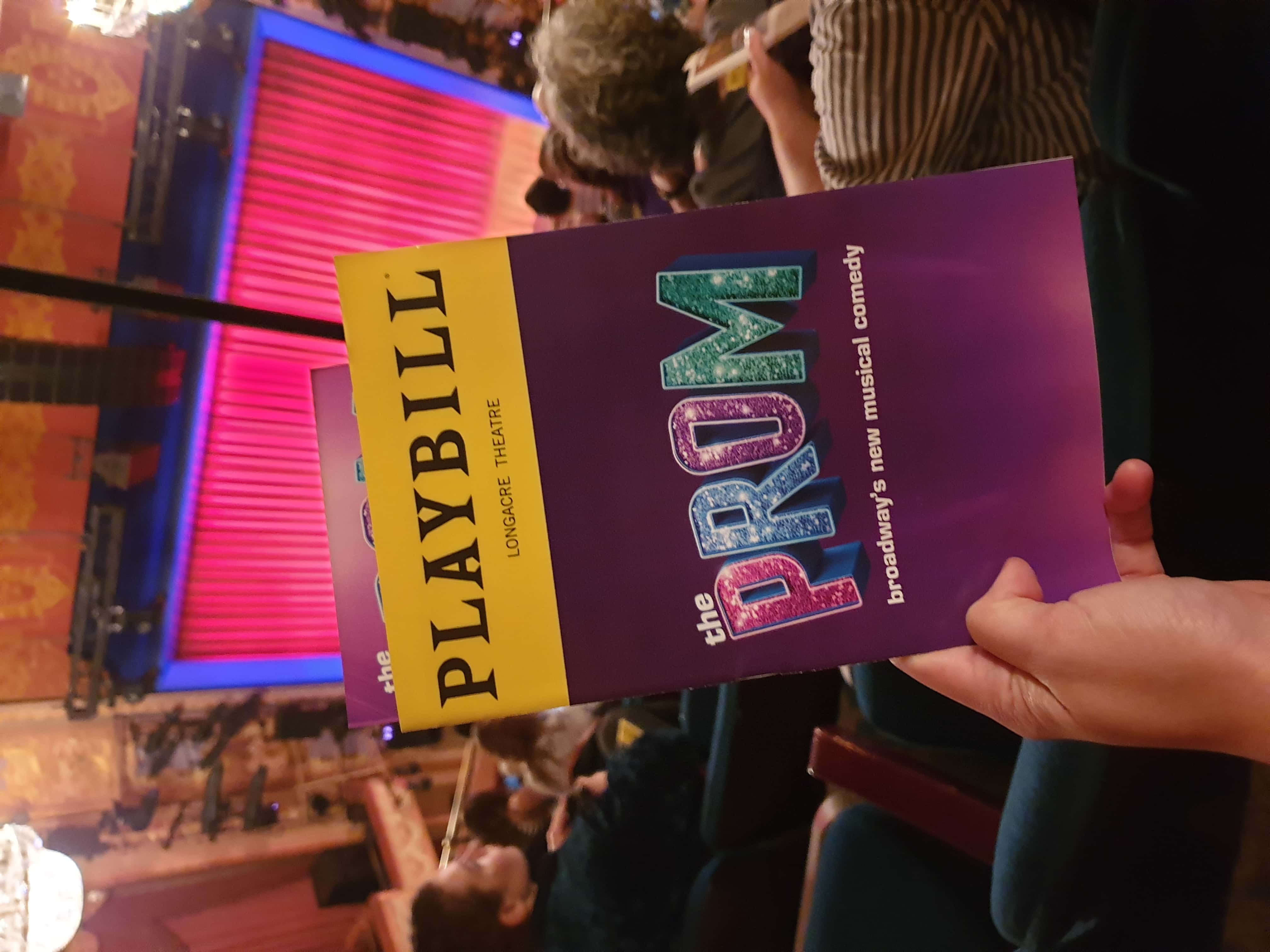 It was another fun show! I didn't really like the pacing of the story (because you can sing away homophobia with only one song, amirite?), but the songs and cast were great. This was one of the few musicals that I actually made the effort to listen to the songs again.
---
Rush queue for Thursday's show!
I failed to get a rush queue ticket for Come From Away as I was quite far behind the queue but settled for a standing room ticket, which was great!
The show was only 100 minutes, so standing the whole show wasn't too terrible.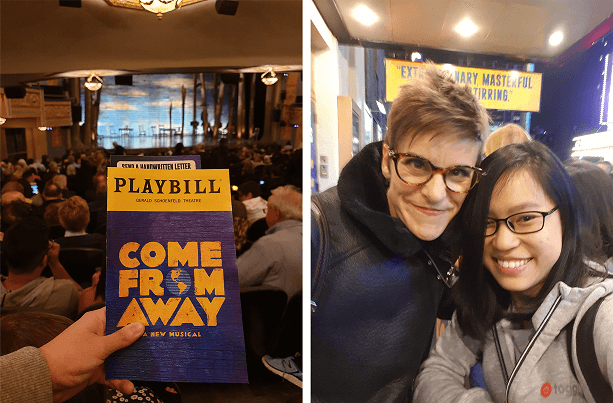 I was so glad when I saw a lot of the original cast! It's been 2 years since the opening of this show, and usually I don't expect to see the original cast. But holy shit!!
---
Friday was just frustrating as I ran out of musicals that I was passionate about so everything is a 50/50 shot.
Also, all shows left on the list now have lotteries and I was still holding onto some hope that I would win any.
In the end, I chose to go for general rush for Kiss Me Kate. 20 minutes before the box office opens, the attendant came out and told us no rush tickets today. I knew I was already too late to get in line for another general rush queue.
So I opened the TodayTix app and looked for shows with discounts.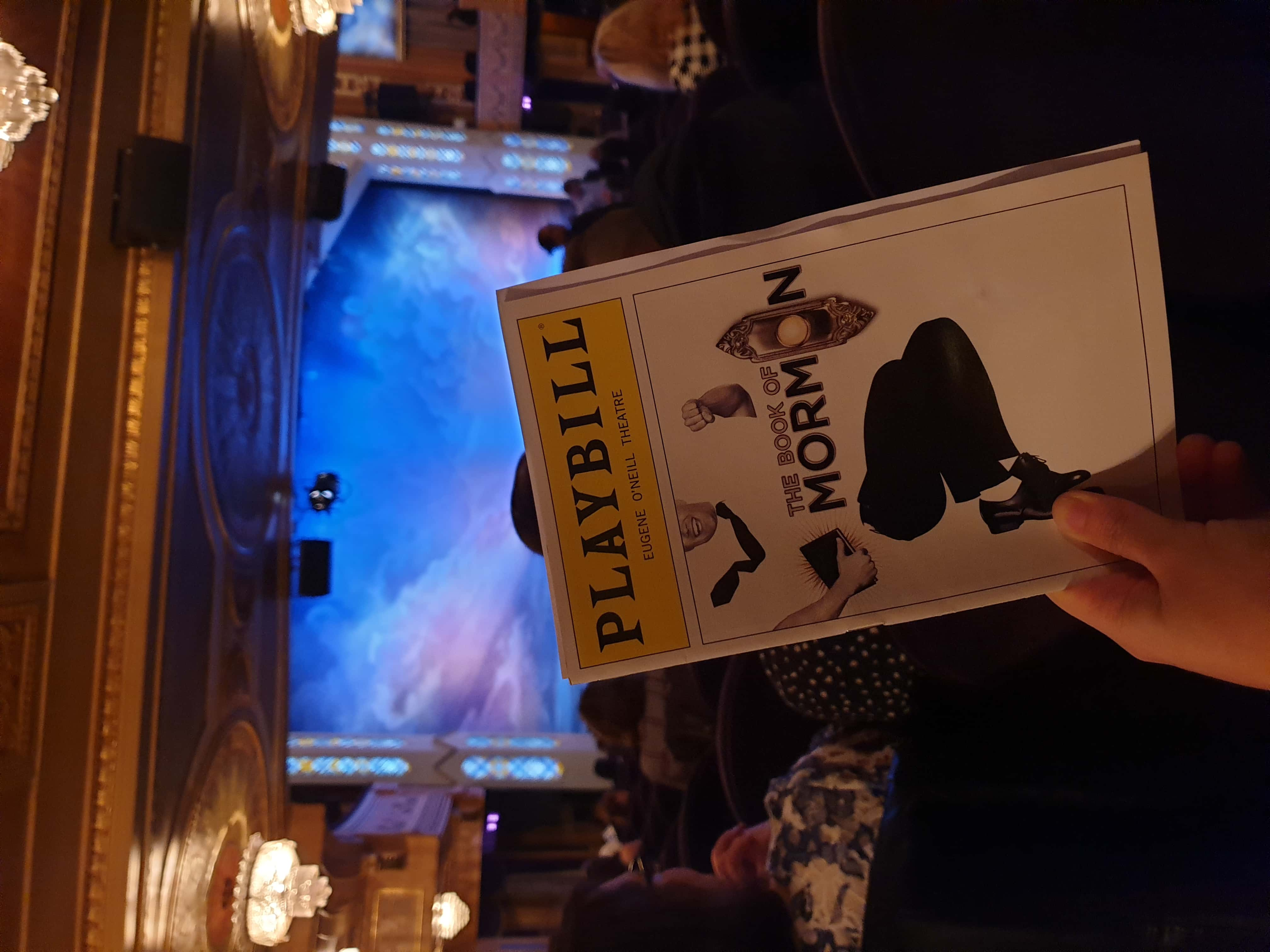 Settled for Book of Mormon. I heard a lot of mixed reactions about this show. I did enjoy it though – also another musical where I looked up the songs after. One of the songs was stuck in my head for forever 🙄
---
Saturday is just me hoping general rush doesn't fail on me again.
I chose to stand in line for Be More Chill, mainly because Will Roland is playing the main lead.
In the mean time, I was on the TodayTix app trying to get mobile rush tickets for Kiss Me, Kate, mainly because Corbin Bleu is playing one of the mains 😂
Well, mobile rush is about as good as entering the lottery – I keep getting error messages throughout.
So I got my Be More Chill ticket and had to throw a dart and choose a show. I decided on Frozen as I heard it was a good show, production wise.
---
I walked into the box office and asked for the cheapest ticket for the Saturday matinee show for Frozen.
The box office attendant said cheapest is $79 for partial view, but he could get me really good seats for $99. Here is where my cheap ass failed me.
I chose the $79 and pretty much missed a lot of scenes because of the partial view. I didn't think that the soundtrack or show was that great either. The plot is nothing new, so there's no extra factor.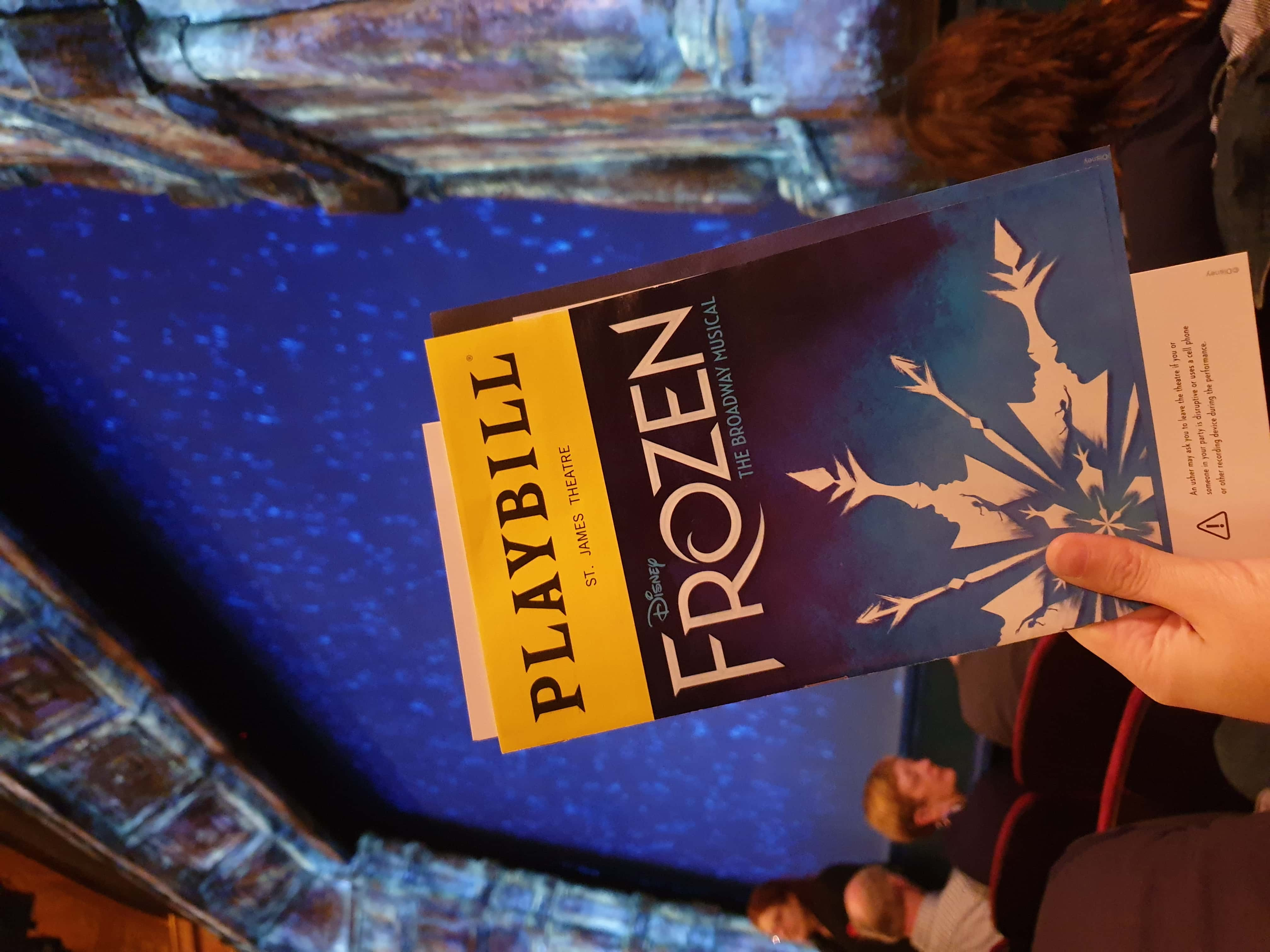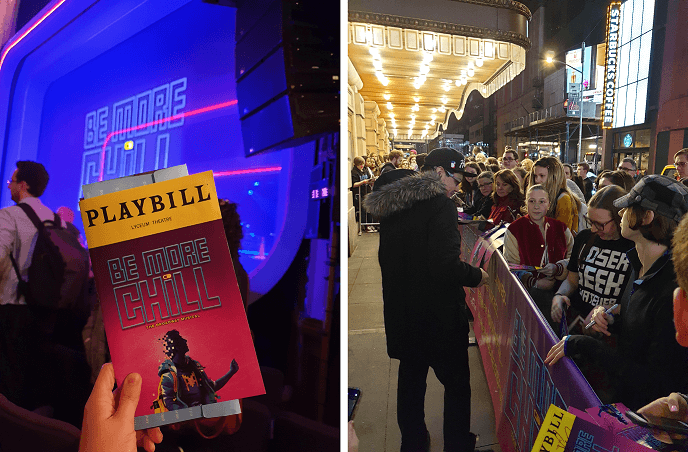 I also got partial view for Be More Chill, so I missed a good number of scenes as well. The songs are a bit of a hit and miss. Only a few people in the cast really stood out, George Salazar (in picture above) was one of them.
---
Because of Frozen, I hesitated to watch Mean Girls for Sunday.
I just thought that musicals aren't as interesting if I already knew the plot. That being said, I took a chance anyway and stood in line for general rush.
In the mean time, I was still trying my luck for mobile rush for Kiss Me, Kate's 3 PM show. No luck.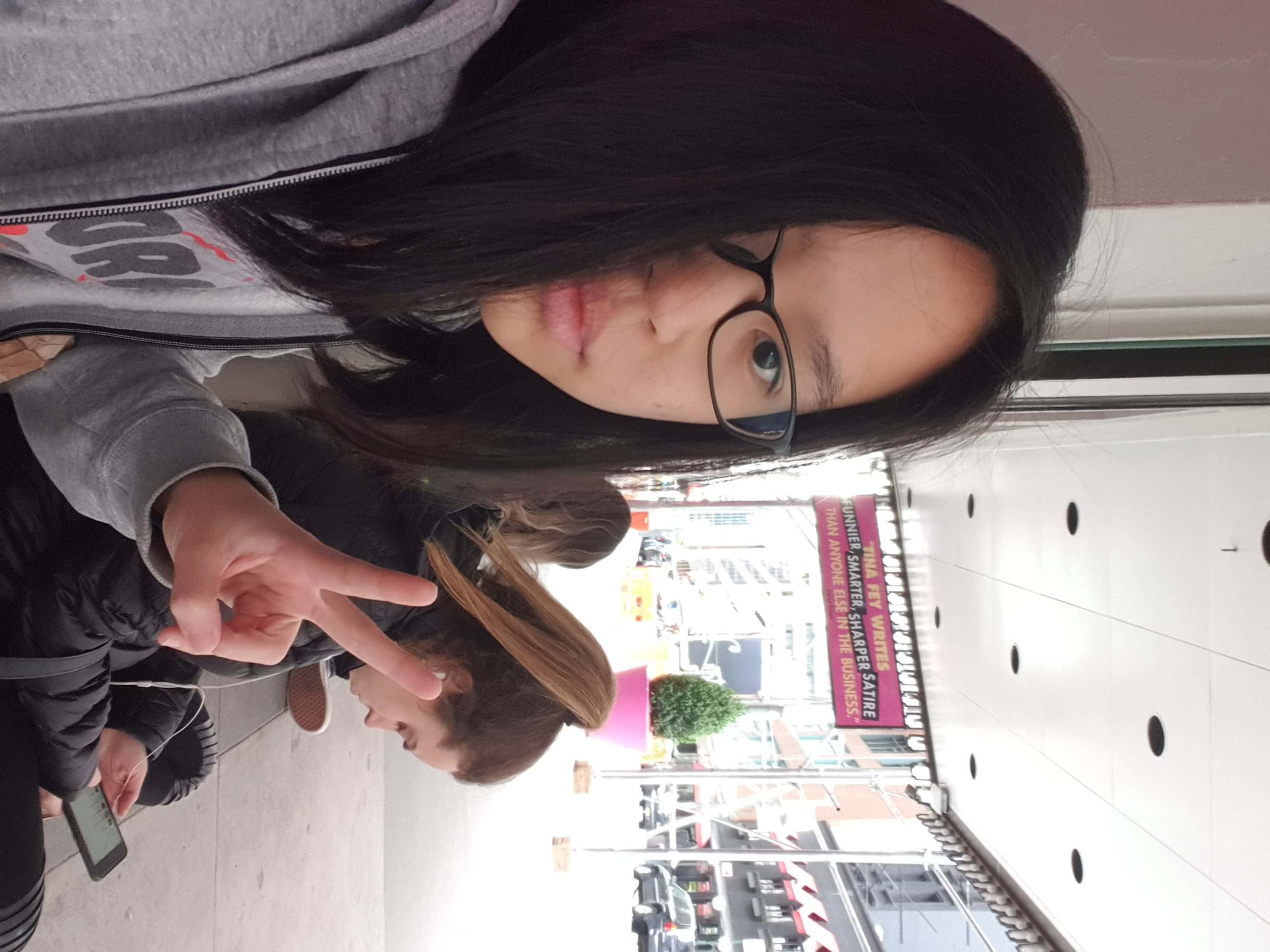 So after getting my ticket for the evening show for Mean Girls, I walked to Kiss Me, Kate's box office and bought an expensive ass ticket for the 3PM show.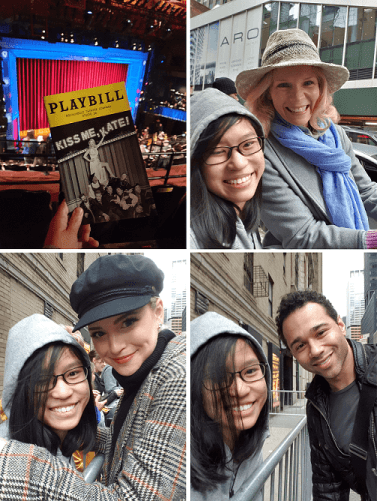 I'm 50/50 on Kiss Me, Kate. The story was kind of slow, and the songs go on forever. The cast is absolutely gorgeous though. Look at the perfection that is Kelli O'Hara and Stephanie Styles. 😍
---
So, if you're keeping count, I wasn't really satisfied with the last 3 shows I've watched. I was totally unenthusiastic about the last show.
In a different circumstance (where I didn't just watch 9 shows in a row, perhaps), I would probably be able to appreciate the shows more.
But the more shows I watched, the higher my expectations were.
The good news: Mean Girls was surprisingly good and enjoyable! The cast is excellent, the jokes are funny, songs are good, and they used the set well.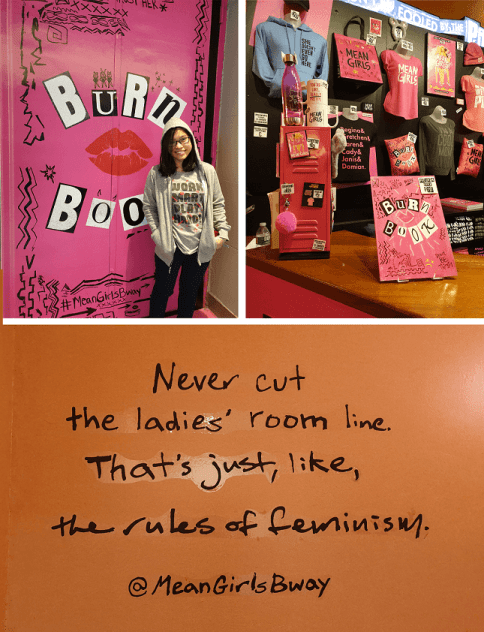 I'm glad I closed the week with this show.
And this concludes my very eventful week!
The Cost
If you want to do this too, I suppose. Here goes:
| Item | Cost |
| --- | --- |
| Tootsie Musical (Walk-in, Last Row Orchestra) | $69 |
| Dear Evan Hansen Musical (Online, Mid Mezzanine) | $123.75 |
| Waitress Musical (General Rush, 3rd Row Orchestra) | $40 |
| Prom Musical (Walk-in, Back Balcony – Partial) | $49 |
| Come From Away Musical (Walk-in, SRO) | $32 |
| Book of Mormon Musical (TodayTix, Last Row Orchestra) | $81.50 |
| Frozen Musical (Walk-in, Front Orchestra – Partial) | $79.50 |
| Be More Chill Musical (General Rush, Front Orchestra – Partial) | $40 |
| Kiss Me, Kate Musical (Walk-in, Back Mezzanine) | $99 |
| Mean Girls Musical (General Rush, Front Row Orchestra – Partial) | $42.50 |
| Accommodation for 7 nights (a dorm bed in hostel) | $533.65 |
| Food | $145.80 |
| Transportation | $34 |
| Total | $1369.70 |
Please don't take the food expense seriously, I was pretty much eating less than 2 meals a day (sometimes 1) + my friend bought me a meal when we met up. If you want a realistic food expense, please double or triple the amount.
Annnnd, that's it!