In 2021, I tracked a ton of personal stats.
I also did this in 2020 but I saw no reason to create a blog post; I did post about it on Twitter though. To be fair, I still find very little reason to write this blog post as the content will not be beneficial to anyone else. But I do think this is something cool to look back on in the future!
Mood/Mental Health
My mental health was completely garbage in 2021 haha.
The best way I can describe is that I felt that my mind was being driven up the wall every day in the first half of 2021. It was a combination of things: slow vaccine rollout in my country and the lack of social activities or outings.
Here, let me show you.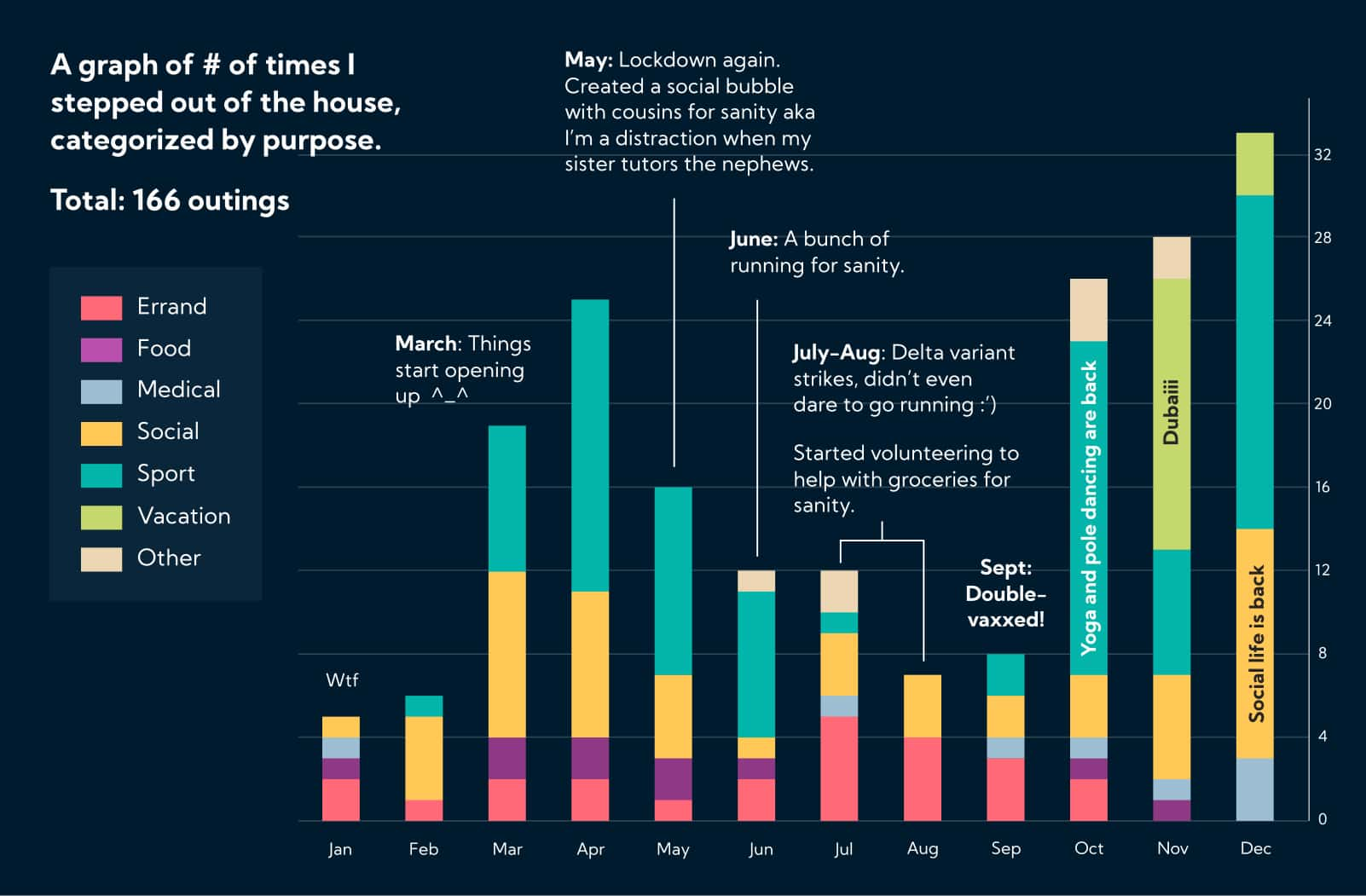 The biggest factor was actually work—it just wasn't enjoyable in terms of workload and responsibility (Hint: it was more JavaScript than I was comfortable with 😂).
When such a big part of your life isn't bringing you much joy, it's pretty difficult to keep spirits up in other aspects. The struggle with work also completely killed my joy for coding, which meant that I had no energy or motivation to work on personal projects after work.
I only did 28 days of coding as a hobby (28!! 😱 blasphemy) vs 92 in 2020 and 104 in 2019.
However, I chose not to make any drastic changes, especially a job change, due to the pandemic. Things did get much, much better in the second half of the year.
I also am cautious that everyone was dealing with the negatives of the pandemic one way or another, so me being an ungrateful piece of shit while still sitting comfortably in my home with a somewhat safe job wasn't a card I was going to play often 😆
At the end of the day, even if my mental health was six feet underground, I am firmly in the "this is such a first world/privileged problem" camp.
Especially during the times when the people in my country flew white flags asking for help or when an unexpected flood hit my state and everyone was scrambling to help save lives and homes... it really makes you stop and think—what was the issue I was whining about again?
Nope, no issues lol.
Entertainment
I watched a total of 1189 episodes of series (731 in 2020—a 62% increase!).
The increase in workload directly caused this. I let shows run in the background when I work, mostly 'mindless' shows like sitcoms (Friends) or shows that I'm rewatching (Bones).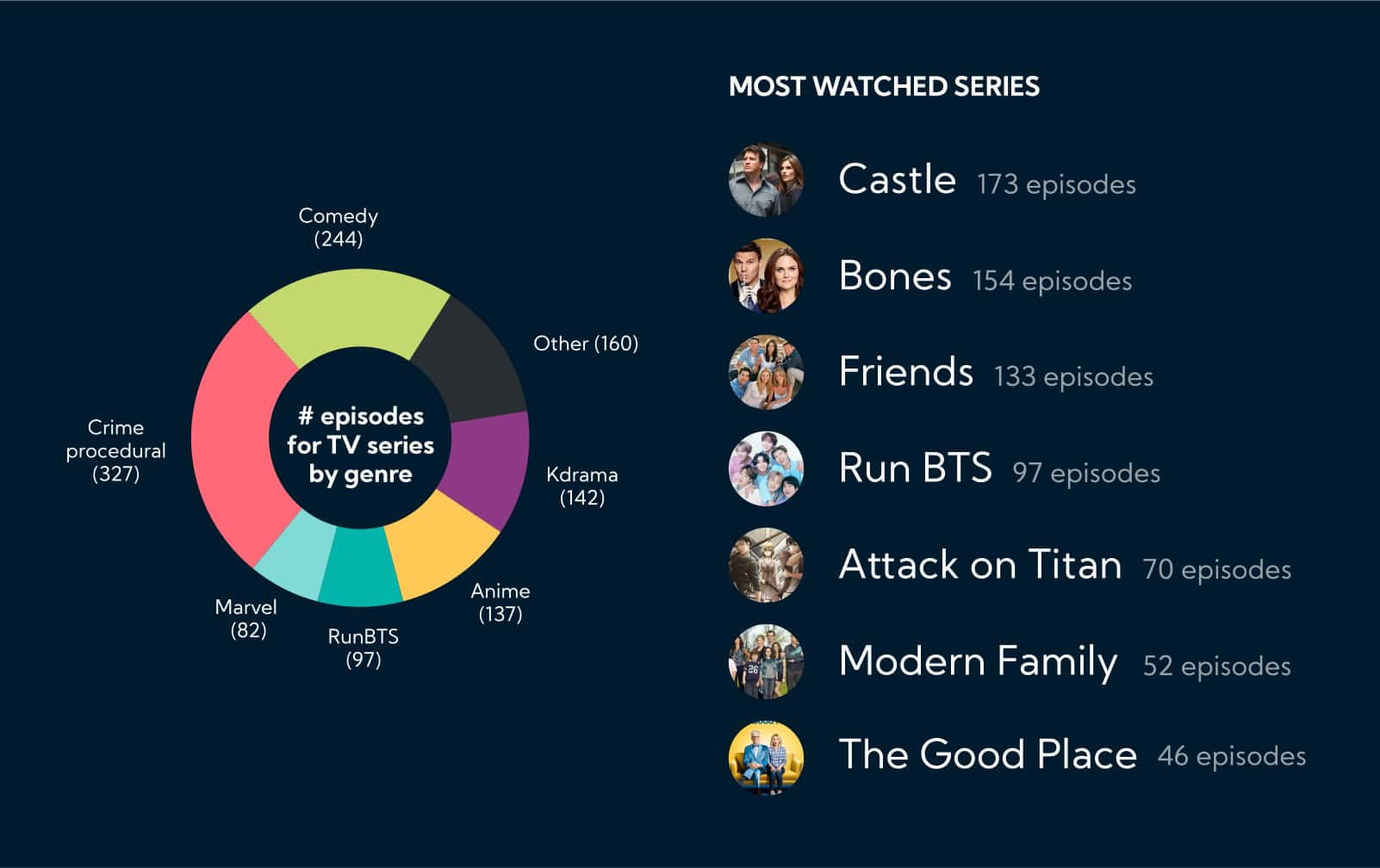 I watched 44 movies. Fun fact: I also watched 44 movies in 2020.
I cannot pinpoint any one movie that I truly recommend. But I can give you a recommendation based on how many tears I shed wtf.
Shed a lot of tears: Demon Slayer: Mugen Train (I also watched the new anime season—the first 9 episodes is basically the movie—and I still cried a ton so there's that).

Shed a few tears: Spiderman: No Way Home.

Shed a tear (like, literally a tear): Soul (Pixar movie), The Eternals.
This is why I keep thinking if I should purchase Disney stocks.
Exercise
Exercise became such a huge part of my life, mainly because there was nothing else to do 😄

I did 103% more workouts compared to 2020—a total of 267 workouts and tracked 260 hours and 42 minutes. My go-to workout channels in 2021 are Madfit, Heather Robertson, Pamela Reif and Caroline Girvan, in order of increasing difficulty.
I started running again this year. I hate it, thanks. But I will never shoot myself in the foot (or maybe I will, so that I can avoid running) as I know the health benefits are more important than my disdain for it. I ran a total of 147km in 2021.
The silver lining is cat photography. I took a total of 65 photos of cats in my neighborhood!

---
I cannot stress enough how important having a social/community component to make a sport enjoyable. If you want to get into a sport and need help committing, you should ask your friends to tag along or find a good gym/studio that has supportive instructors.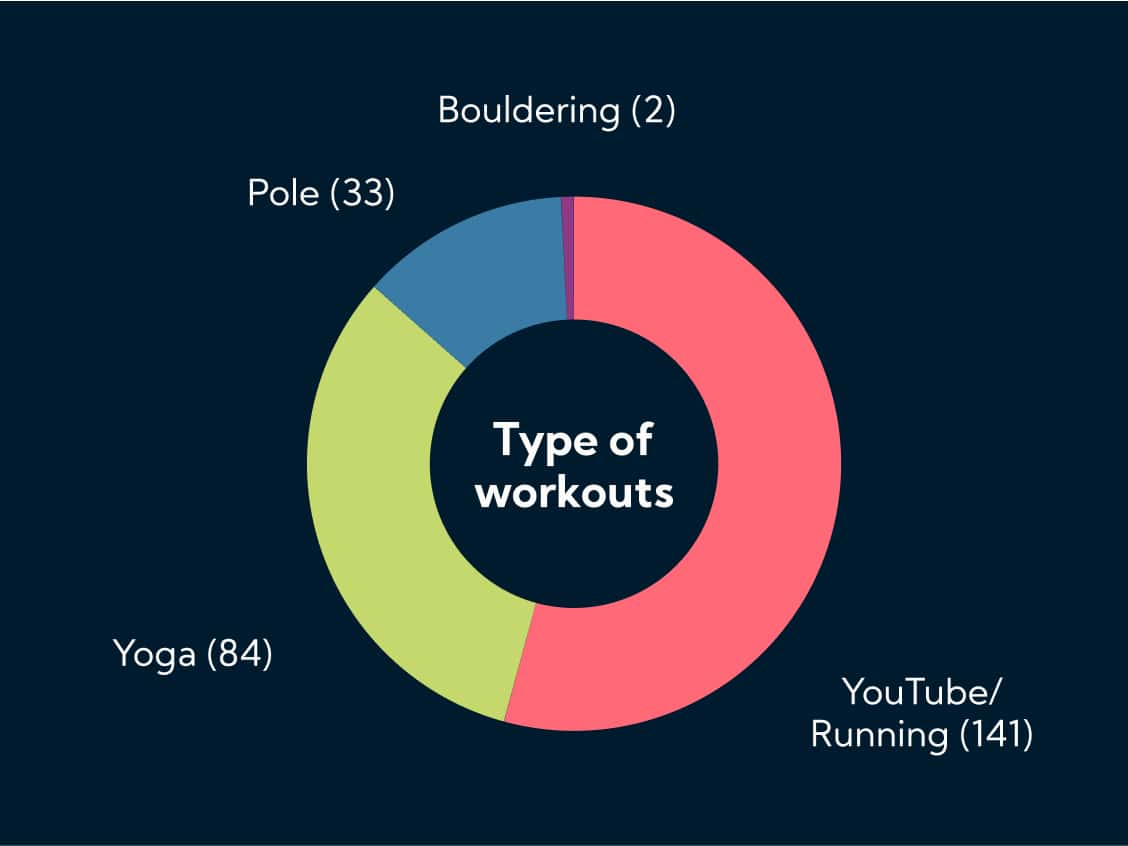 Bouldering
I enjoyed bouldering but when my bouldering buddy left to Germany for new beginnings (#betrayed), I found that I didn't enjoy it at all solo. It is also very difficult to pace myself between climbs without a companion.
---
Yoga
Yoga was something that I felt very meh about but found the motivation to do it because I really like the instructor. We were doing online classes for a bit and there were two 2-week online programs in August. God knows how I woke up at 7am almost every day for it. I would internally whine with every goddamn sun salutation that I had to do, but shit, I was still waking up every day and doing it.
It was also these 4 weeks that helped me hit a personal record. For the first time ever in my life (and probably the only time), I did more workouts in a month (33) than there are days in said month. It was August.
I was also doing yoga with my sister and a mutual friend. It was very fun to discuss all the poses we could not do during post-yoga brunches so that was an additional social factor.
---
Pole dancing
The same bouldering buddy who went to Germany was also my pole dancing buddy (#betrayed). I chose to continue on because the instructors are great.
I even bought a pole for my home! I started pole dancing in 2020 but I'm actually still a noob because most of 2020-2021 was spent being in lockdown. Sports/recreational activities would be allowed for a few weeks and when we started to see some progress, the government ordered another lockdown.
So I got a pole and tried to make do with online tutorials so I don't lose whatever progress I made.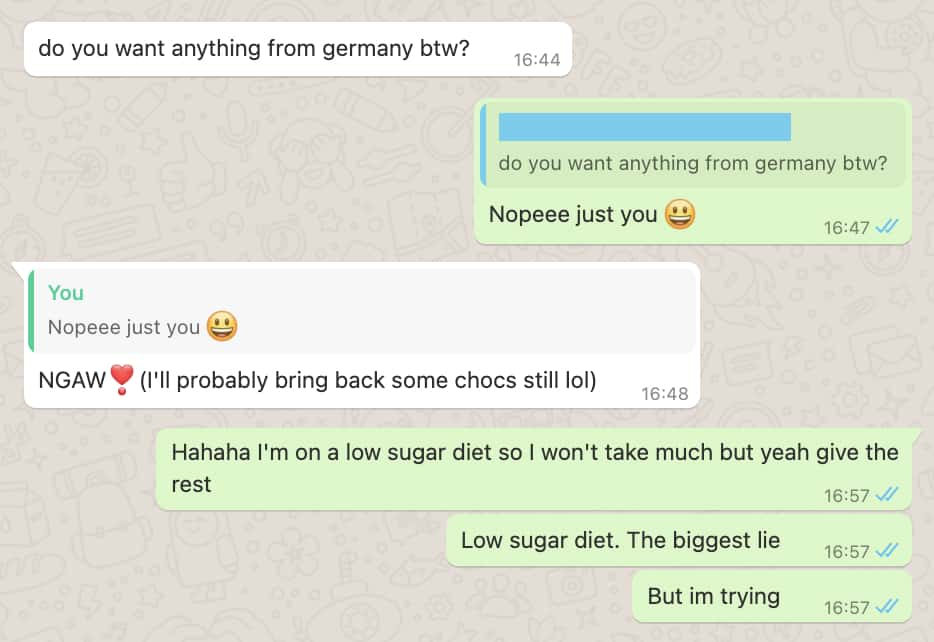 Food
I'm just putting this category here because I am embarrassed by the data.
A big reason why I work out so much is so I can consume garbage without shortening my lifespan by too many years. My weakness is definitely desserts.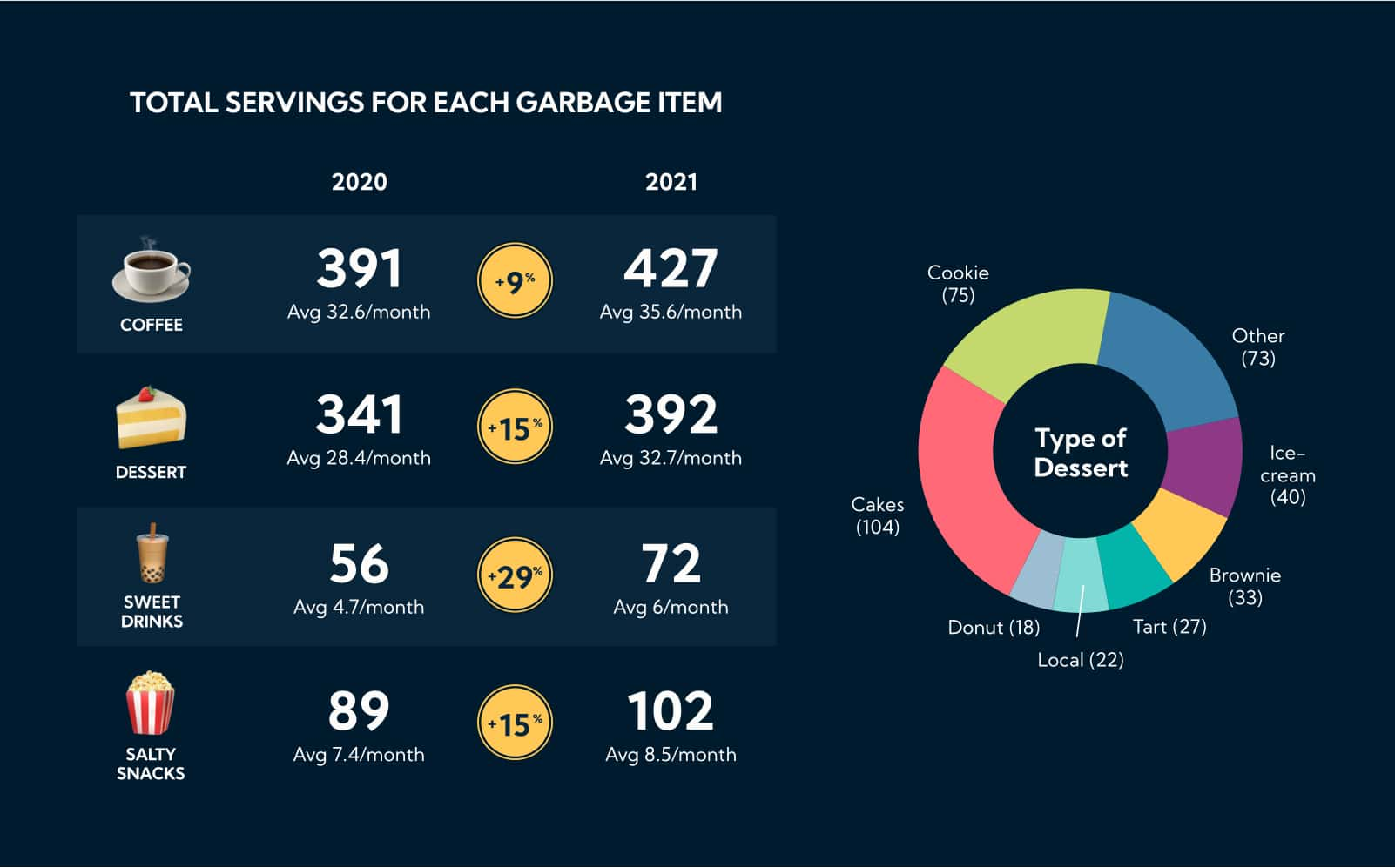 As per the conversation above, I'm making some effort to reduce it.
Another disgusting data is that I ordered food deliveries a total of 201 times, compared to 49 takeaways and 90 dine-ins. I mean, 75% of the year was basically lockdowns so... it makes sense?
Truthfully, on days when I needed a pick-me-up, I'd order something to make myself feel better, and yeah... there were a lot of those days.
(Abandoned) New hobbies

Latte art
Practiced latte art 77 times. This was a hobby I picked up at the end of 2020, but I ended up not doing much because I dislike self-made instant coffee lattes. Instant coffee? OK. Instant coffee latte? Hell no.
---
Baking
I picked up baking and I actually quite enjoyed it and even saw significant improvements (I started out bad) after 32 days of practice but I eventually stopped because it was not worth the weight gain.
---
Plant Parenting
Got a pot of succulents as a gift from friends and I tried keeping them alive with little success. I don't have data of how many days I've spent tending to them (it was every day for a few months) but I do have expenditure data. I spent ~$115 trying to save them (soils, fertilizers, complementary plants, and oh my god, why are pots so expensive??) before I decided to let the universe take them.
Travel
Dubai, UAE 🇦🇪
When cases were pretty low in most parts of the world (the dip between Delta and Omicron), we did a cross-team meetup in Dubai. Although it wasn't my first or fifth choice, it ended up being a good place to go as UAE had the highest vaccination rate at the time of visit.
And despite that, they were still very strict about social distancing and having to wear a mask in public places at all times. I like.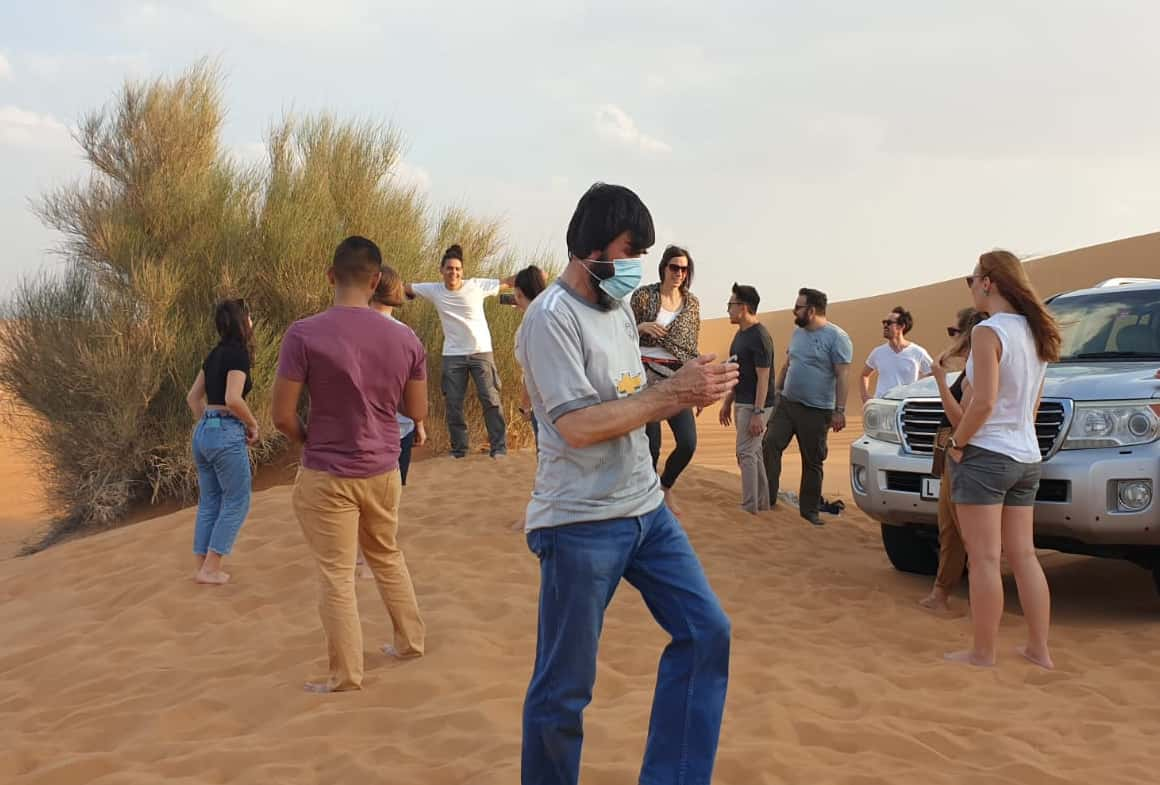 ---
Bentong, Malaysia 🇲🇾
My country finally allowed interstate travel so I went on a vacation with my extended family. 17 humans! It's a staycation of sorts?
Although I wouldn't consider it chill (a bit more like organizing and accommodating the older generation and younger generation—kids. so many kids.), it's the first time we got to spend time together in the past 22 months in a happier setting. Otherwise, the only gathering we'd have had is for a funeral 💀.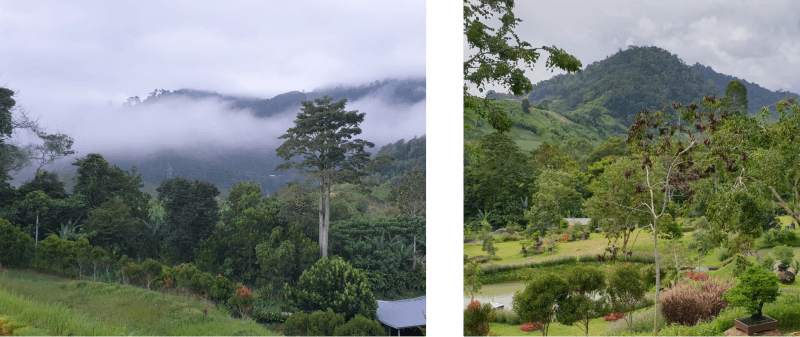 Other
Turned 30! Got a tattoo.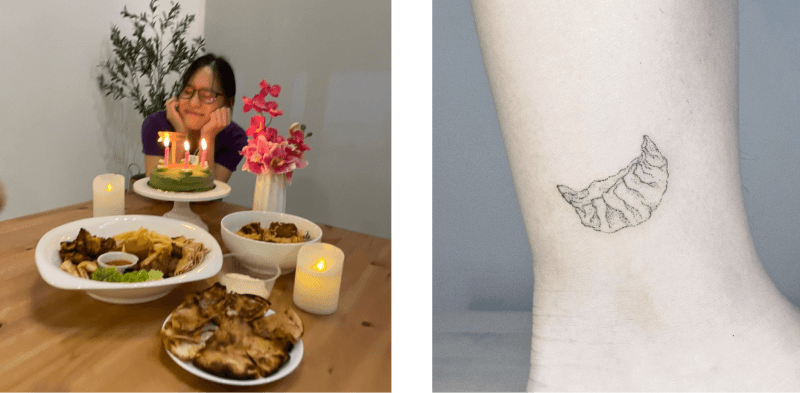 These two events are not related in any way 😄 I got a tattoo of gyoza—it's Japanese dumpling... but I love all dumplings. I tell people my favorite cuisine is dumplings. That said, I only ate dumplings 38 times in 2021 (yes, I have this type of data too). Anyway, that number is way too low; I need to fix that this year.
---
... for the first time for one of my best friends. I joked that I passed up the opportunity to attend a BTS concert to attend her wedding. The cutest thing is that when I told her that the dates clash, she said, "You go. I understand." 🤣🥺
---
Received some PDFs!
As the official Goodbye PDF generator in my company, I never thought I would say this: I got two PDFs this year!
One on my birthday by (mostly) ex-colleagues...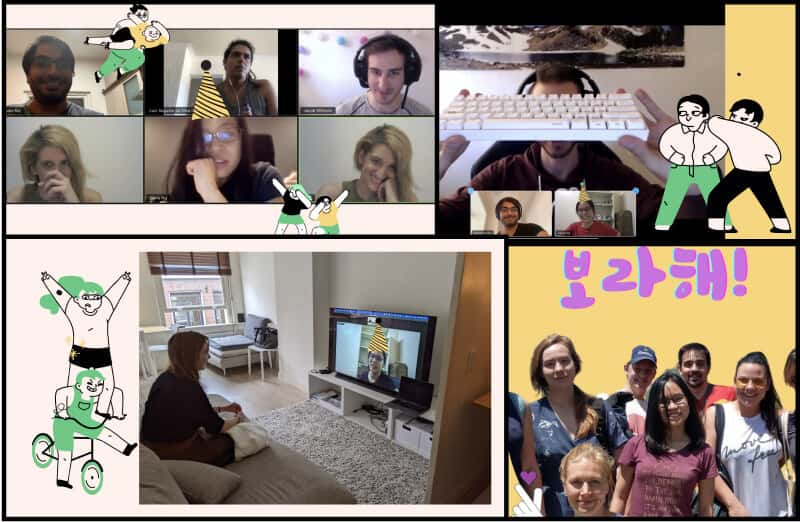 ... and another BTS/cat-themed in late December (it's a "New Year PDF") by my colleagues.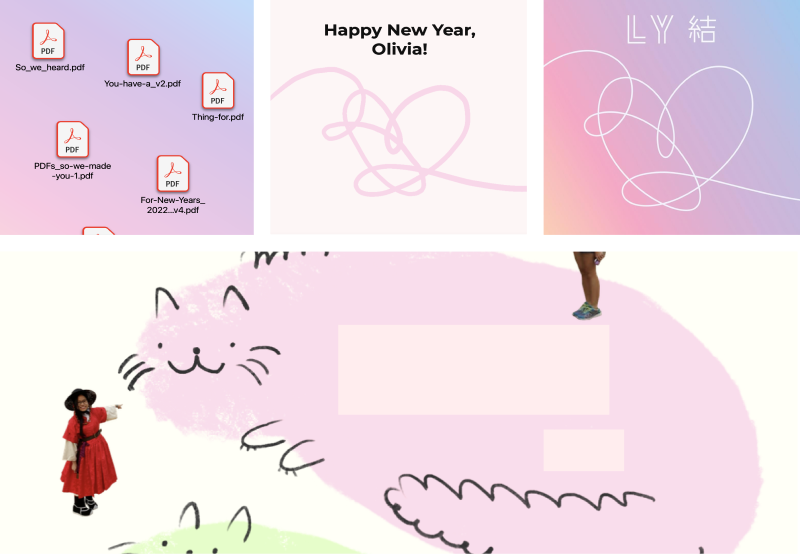 This was so lovely aahhh 😍
Final Sentiment
I lost a lot of my soul to work and some days, I think that I may have actually lost all enthusiasm for my career. But I know in a few years, or months even, I'll look back at 2021 and say that I've gained a lot socially. Just getting the chance to build stronger relationships and memories with people whom I love is enough and I hope I can carry this on for life.
To more travels and less desserts in 2022... 🥲