I've recently embarked on a 10-shows-in-a-week journey and had a budget to adhere to: the "As Cheap As Possible" budget.
Here are a few honest tips I've learned throughout the week.
Some basic terminology:
Matinee shows = 2 PM shows.
Evening shows = 7 PM or 8 PM shows.
There will be 2 days in a week where there are matinee shows, usually Wednesdays and Saturdays. Mondays are usually rest days, but schedules vary for each show so always Google first!
I will use the words "show" and "musical" interchangeably. I mean the same thing.
First and foremost – Should I buy musical tickets online? Should I buy them beforehand?
Noooooo. If you can wait and buy tickets from the box office, this is a better option as you get to save on transaction fees. The only time I would advise to buy online is if it is a popular musical and you really, really, really want to watch it.
If you do decide to buy tickets online, do not purchase from broadway.com (they charge ridiculous fees).
Visit sites like Broadway Box for discounted tickets – I relied on this site a lot to check availability of the shows as well. Even if you buy in-person at the box office, showing the discount page of the site will net you the same-price ticket (and you save $10 on transaction fees, score!).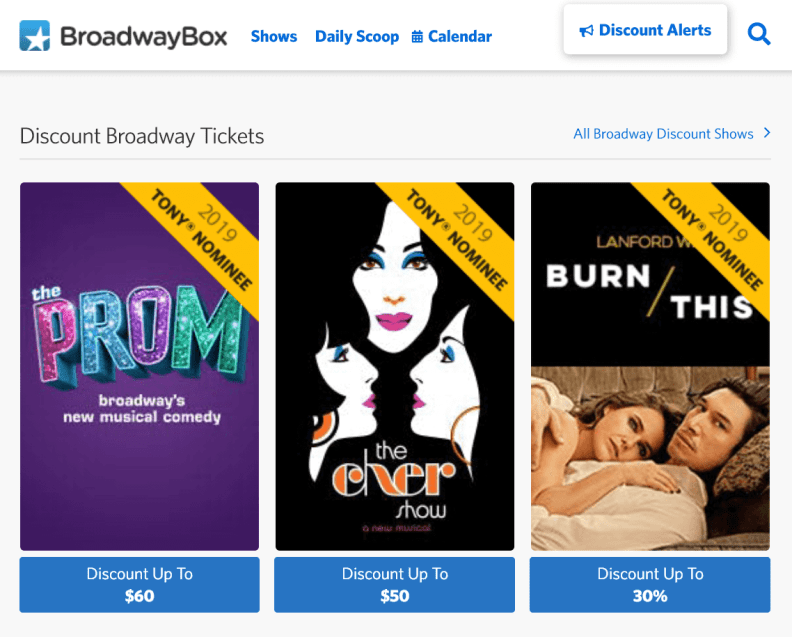 Another resource which I did not use but was recommended to me was the Playbill website. Get on the newsletter so you get alerts for discounted tickets if you wish.
---
Ok gotcha, now how can I get cheap Broadway tickets?
I would advise to work in this order.
This, imo, is the best resource to start with. The site lists down all the information and links to general rush queue tickets, lottery tickets and special discount tickets (e.g. For the Mean Girls musical, they sell tickets for cheap if you wear a pink item on Wednesdays!)
Sidenote: The showtimes can be quite outdated so you have to double-check. I relied on this and tried my luck at the box office and was told that the show started half an hour ago 😛.
---
2. Enter the lottery
You can get the links to the lottery from the broadwayforbrokepeople.com site or just google "[Musical Name] Broadway Lottery". Most musicals have digital lotteries.
Caveat: Only 2 tickets per person! Seats are assigned, although most sites do tell you what seats you'll get.
Some sites (e.g. Luckyseat) will have lottery entries for multiple musicals so you should just visit that site and enter for multiple shows. Some musicals are so huge, they have an app for it!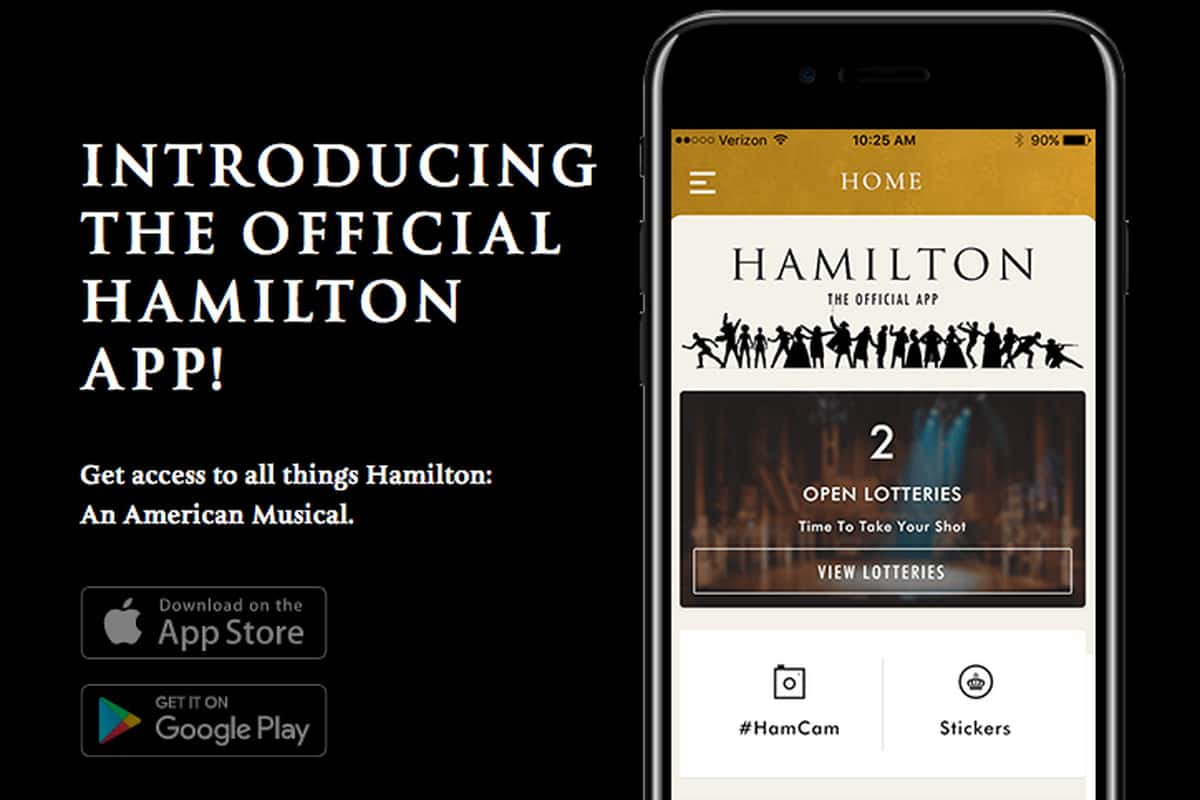 The main tip if you are not picky about the musicals you want to watch: Enter as many shows as you can, at whatever showtimes.
Chances are you won't win 😂
I entered the lottery more than 50 times (many different musicals for every show for 7 days) and I didn't get a single one.
If you do win the lottery – JUMP ON THE CHANCE.
Most lottery results are announced the day before so even if you don't get it, there's plenty of time to get tickets for other shows (if you're not picky about the shows itself and seats).
If you want the old-school experience, you can also enter in-person lotteries. Not many musicals do this anymore, but the Wicked musical – a very good musical, I must add – still do them. Basically, you go to the box office 2.5 hours before the show opens to put in your name, wait 30 minutes for the lottery results and pay on the spot when you get them!
Annnddd…. you didn't win the lottery (bummer). Now what?
---
3. Line up for general rush tickets!
General/Rush/General rush queue started off as a way to allow poorer people 🙋‍♀️ to afford watching musicals. Basically, on the day of the show, you line up at the box office, and you can get tickets for cheap until sold out.
Caveat: Maximum 2 tickets per person.
Here is a mini Q&A.
How much are rush tickets?
Usually between $30-50, so a discount of about 50% or more of the original price.
What kind of seats will I get for general rush?
Rush tickets could be any seating assigned by the box office attendant.
Some musicals also let you know the types of seats given out on the official show. A lot of musicals actually give out orchestra seats (section nearest to the stage). Sounds like a good deal? Maybe.
For some production sets, orchestra seats could also mean that it is partial view because you are too front and can't see the whole stage comfortably. I have gotten excellent seats and some not-so-good ones – it's all luck.
The silver lining is when you sit in the orchestra section, you get to see the facial expressions of the cast very clearly. I know this is important for some people. If you are one of them, this is a higher incentive for you to go for rush tickets!
What time should I start lining up for general rush queue?
The most annoying answer – it depends.
a) If the show has been around for a while and you see discounted tickets are available online (check broadwaybox.com!)… You can go a bit later. All box office opens at 10 AM every day, 12 PM on Sundays. "A little later" is about 1 hour before the box office opens, so 9 AM.
b) If there are 2 shows for the day… You can also go a little later, as the ticket purchases are split between 2 shows so there is a higher chance you can get a ticket for either show even if the queue is longer.
Example: I went at 9.20 AM earlier on a Wednesday to purchase a ticket for a matinee show. I got one just fine. On Sundays, you may want to go slightly earlier as well. I stupidly thought the box office opens at 10 AM, so I started lining up at 8.30 AM and people were already lining up!
My face when I found out box office opens at 12 PM on Sundays: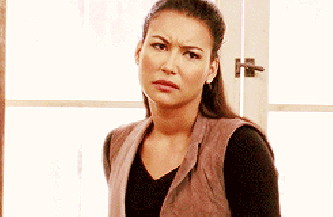 That said, the queue wasn't that long even at 10AM on this Sunday.
c) If the show is famous/won many Tony awards… I would go at least 2-4 hours before box office opens.
d) If the show is closing soon… Yikes. I heard at one point, during the closing weeks of Anastasia, people started lining up as early as 4 AM. I personally wouldn't do this unless you have excellent entertainment devices to keep you occupied for a lot of hours.
How many rush tickets are sold every day? What is the guarantee I will get a rush ticket?
Subject to availability, and the information of number of tickets being sold is not available anywhere!
You can't even gauge if you're gonna get a ticket based on the number of people in line because you don't know how many are on sale that day.
I was freezing my ass off in a queue for a show and was the 8th person – pretty confident that I would get a ticket. 20 minutes before box office opens, a woman comes out and said there are no rush tickets for the day.
Is it worth it?
You broke? You trying to save money? You will love the show wherever you sit anyway? Hell yes.
The show I want to see doesn't do general rush tickets. I love lining up in queues. Any other option?
---
4. Line up at the TKTS Booth
This is another option but warning: I did not do this because I have planned to watch shows with general rush so I can only give tips based on what I've read online.
TKTS booth gives you discounted tickets for same-day shows. They also open at 10AM, and you must also go early. The good news is that even if the queue is long, you may still have a chance to get tickets for the shows that you want because they sell tickets for every show.
Also obsessively check this page for real-time listings of all the shows that are on sale at the TKTS booth.
---
5. Use the TodayTix app
You can also use this for discounted tickets, but I see that they are similar to broadwaybox.com in terms of discounts offered.
You can buy discounted tickets, and use their Concierge service, where you will buy the ticket through the app ($10 transaction fee included), meet someone 30 minutes before the show begins and they will hand you the ticket.
100% reliable – I did this and didn't get scammed 👌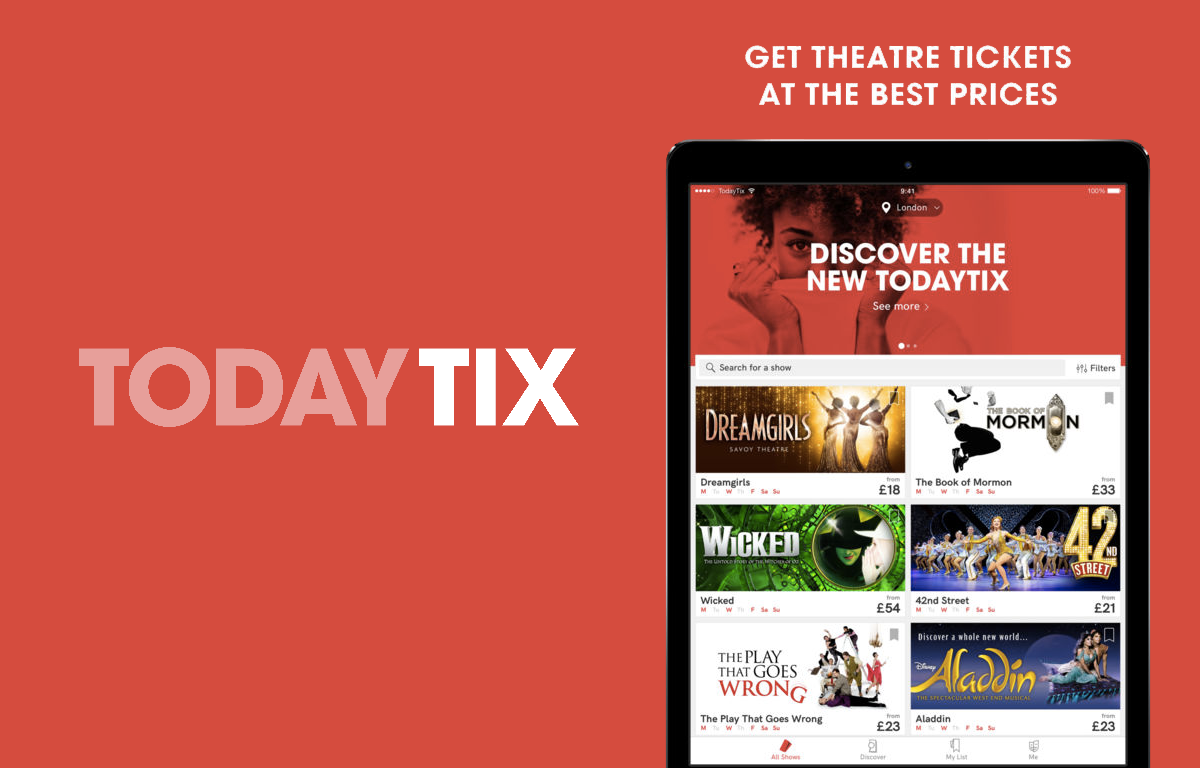 But I'm also recommending this app because some musicals have a Mobile Rush option via this app.
At 10 AM when box office show opens, you can purchase the tickets for ~$30-50 on the app. It is difficult though, I've tried multiple times and I always get the "All tickets are in someone else's basket right now, suck it!" response.*
* Not the exact phrasing, but it sure felt like it.
You've tried everything and didn't get rush tickets. Now what?
---
6. Buy tickets at the box office itself
Save up to $10-15 per show of transaction fees! Believe me, when you're watching 10 shows, the savings do add up!
If you are lucky and if the box office attendant feels nice for the day, they might hook you up with cheaper tickets. I heard an attendant discussing with another attendant, saying "Well, can we give her this seat for just $69? She's looking for the cheapest seat."
Now I don't know for sure if the seat really is better, but I like to think that I got better tickets so… please let me believe this 😄
What kind of seats should you get?
The cheapest non-partial-view seat is your best bet!
Tip: If it's an extra $10 or $20 for a much better seat, don't skimp. You will regret it. (I'm cheap, so I settled for a slightly cheaper ticket… yeap, I regretted it).
What are standing room tickets (SRO)?
When a performance is sold out, a limited number standing room tickets are available for purchase. You stand the whole show. It's a single line, so you're not going to be behind someone super tall.
Caveat: Limited to 2 tickets per person.
Also note that if you are short, sometimes the barrier can be quite tall. You need to ask the box office attendant how tall it is. I did and the box office attendant let me into the theatre just to make sure I could watch comfortably.
I got advice that I should get a SRO ticket for a shorter show (the Come From Away musical is only 100 minutes with no intermission)… superb advice! When you're enjoying the show, it doesn't feel that long anyway.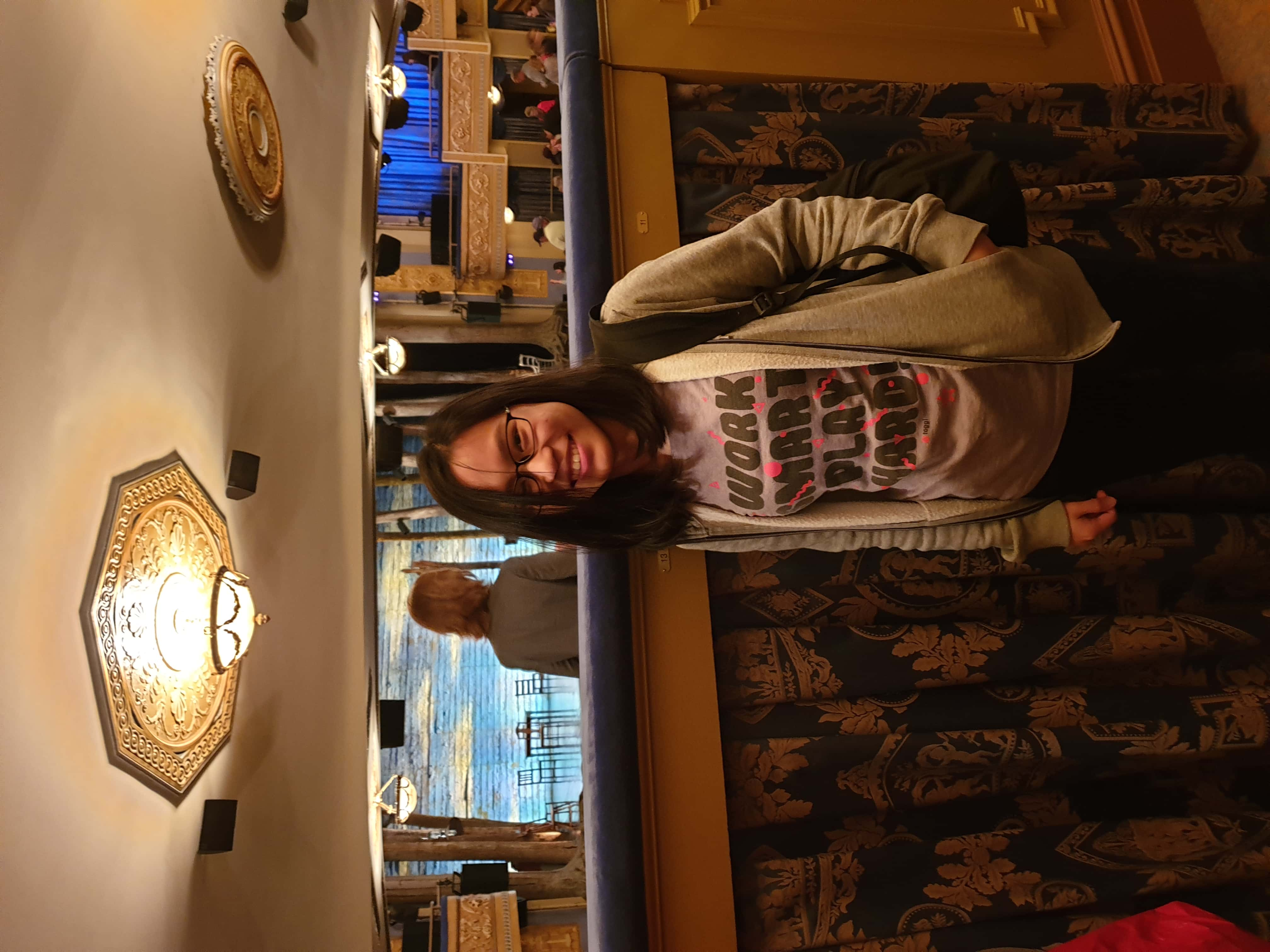 For another show, I sat on the very last row. There was a couple of tall people in front of me who pretty much blocked out my entire view. Halfway through the performance, I just stood up to watch (no one directly behind me). The SRO line stood behind my row; it was honestly just better/cheaper for me to just get an SRO ticket.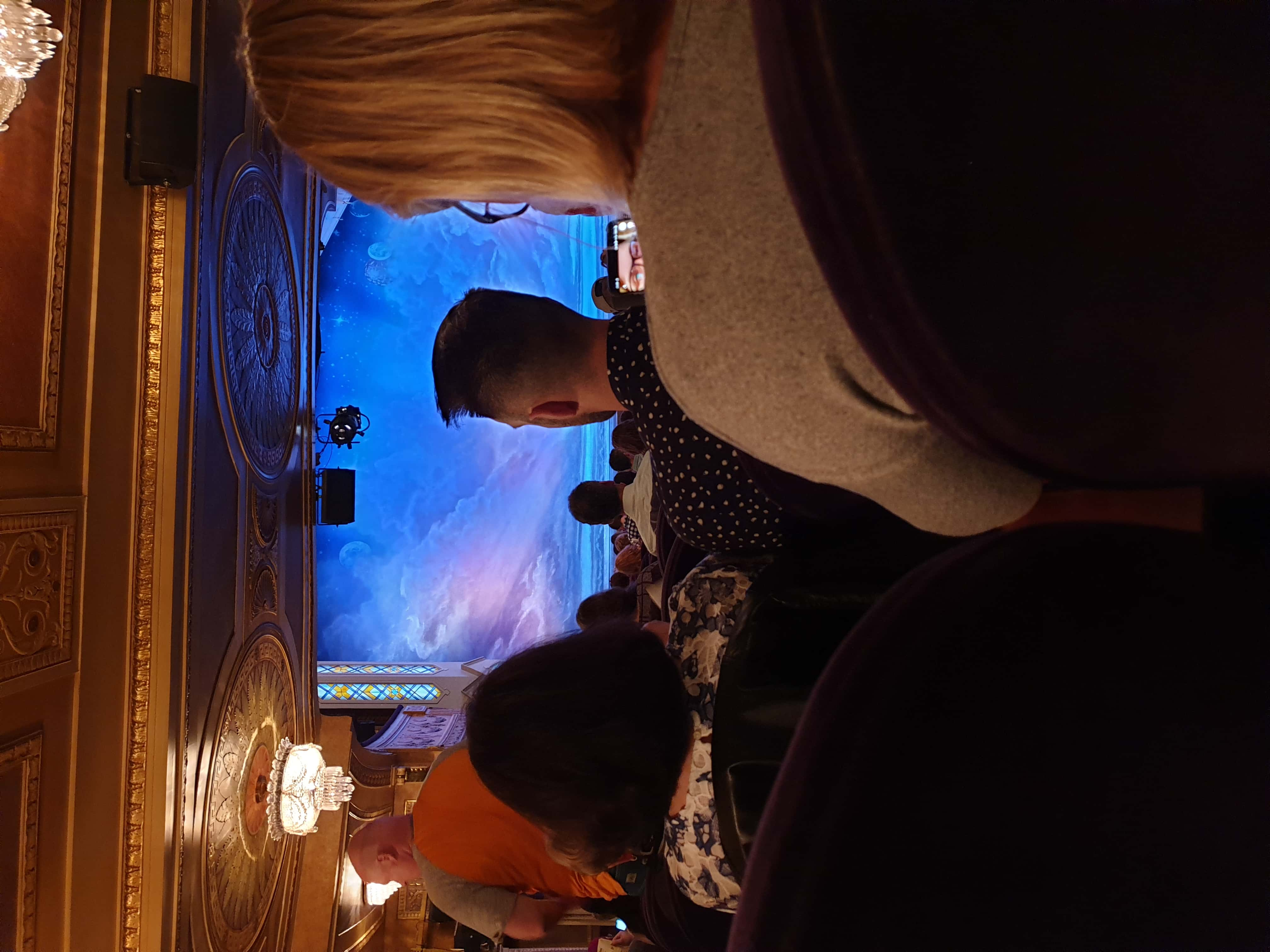 What about partial view seats? It's always the cheapest!
Oooo, risky! For productions which utilize the full stage, don't. You will get a sub-par experience. Partial views could mean:
a) Some set items will block your view if you are too far right/left of the theatre.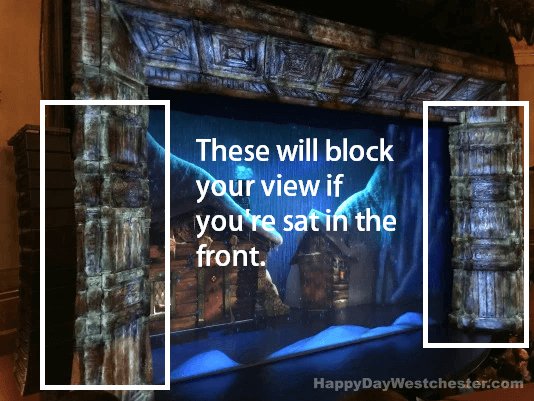 I sat in the 3rd row, far right. Not only do those large set items blocked my view, they also had digital projections (for the icy effects) and I couldn't really see the whole spectacle as I was way too close.
b) There is a pole if you're in the back sections (mezzanine/balcony)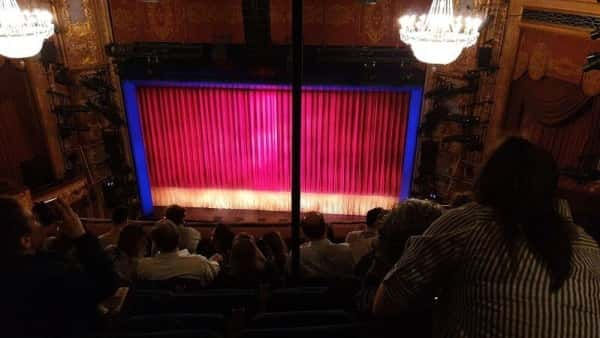 The good news is if the theatre has balcony seats, it is a huge theatre and chances of them selling out the whole show is low. That means that you can move to other seats if you know for sure it is not occupied.
For this show, the usher told us that we are free to move to better seats upfront. I did move two seats away to get the annoying pole out of my view.
How do I know which partial views are okay?
Google! Google "[Show name] broadway partial view" and you will most likely get links to Reddit or https://www.broadwayworld.com where people discuss extensively about shows and seats.
The advice given is very helpful! You will read feedback such as "I was at seat G10 and I didn't miss much" or "A lot of scenes happening in far right of the stage. If you get partial view tickets, sit on the left hand side of the theatre."
---
7. Try broadwayroulette.com
This site here is for the ones who like risks. I personally did not use this option, but basically, you pay less than $60 and you will get tickets to a random musical chosen for you.

I didn't do this as I have too many shows I did not want to watch. But if you are a free-spirit and wouldn't mind any musical, this could be a really cheap option.
---
8. All out of luck? Watch an off-broadway show!
Sometimes shows run off-broadway as a market test to see whether they are popular enough to be on Broadway. So you might get lucky and get to watch a really good show. I would personally Google reviews though.
---
That's all the tips I have for you today. Now…
What did I personally do?
This post is getting quite long, so I wrote about my personal experience in another blog post instead. You can check it out here, or if you have a specific question, comment below or drop me a message on Twitter. I'm not an expert by any means, but I never not give my two cents 😁