What is the Yee Peng Festival?
If you've seen a picture of thousands of lanterns in the sky, it is most probably taken during the Yee Peng Lantern Festival held in Chiang Mai, Thailand.
Like the Pingxi Sky Lantern Festival in Taiwan, it is pretty much the lantern scene in the Disney Movie, Tangled.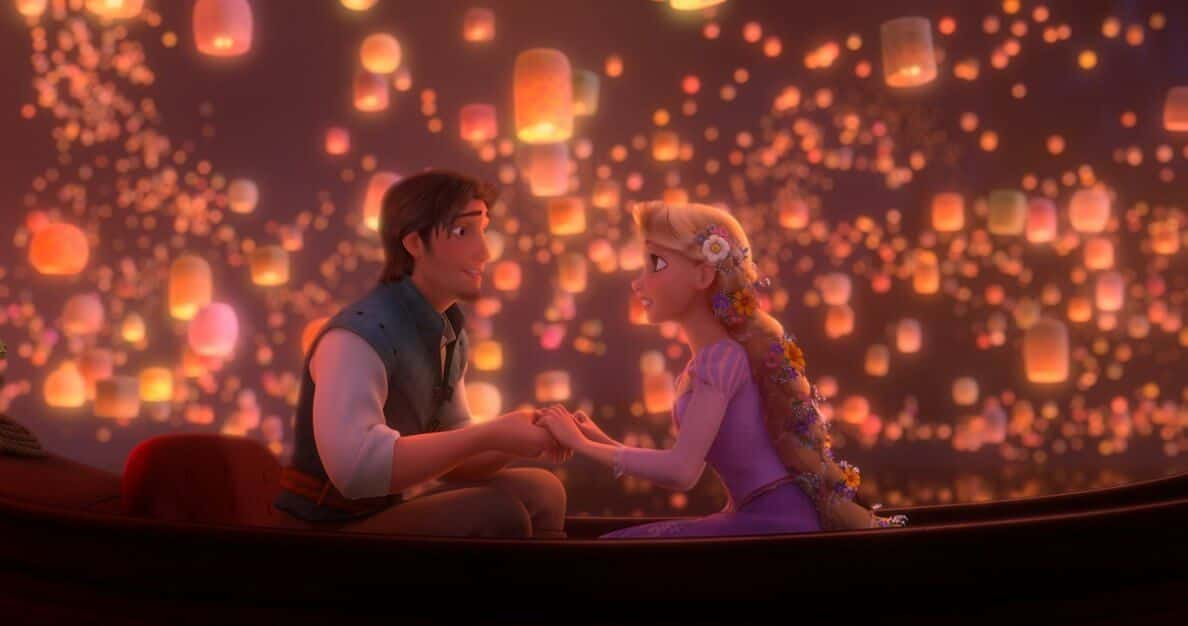 When is the Yee Peng Lantern Festival?
The dates change every year. Do not be mistaken though! There are two festivals going on in Thailand at the same time: The Loy Krathong Festival and the Yee Peng Festival.
The Loy Krathong Festival goes on for a week, where people release banana-leaf boats decorated with flowers and incense sticks into the river. You can also catch performances in the Chiang Mai Old City throughout the week.
Yee Peng Festival is usually at the end of Loy Krathong week. This is when people release floating lanterns into the sky. This is the one that you're Googling to research more about should this post has insufficient information.
For 2022, Yee Peng Festival is on November 8-9, 2022.
How can I participate in the massive lantern release?
The massive lantern releases are organized events at locations outside the city center. You would need to reserve your spot online and yes- you have to pay in advance.
I know of two well-known private events.
Yee Peng Lanna Festival at Mae Jo
This event used to be free in early 2010's, but due to its popularity, it is now a private event that costs at least USD $100. This was initially the biggest event with more than 4,000 lanterns released.
Last year, the event size was reduced and there were "only" 3,000 lanterns. This event sold out in early September in 2018 (2 months before the event).
Yee Peng Doi Saket
Another event which also costs at least USD $100 with 3,000 lanterns. There were still tickets on sale when we bought them in mid September, but standard tickets were sold out. We had to buy VIP tickets (USD $150).
There are also two other events – one near Mae Ping River and another at Mae Rim, according to this source.
Where can I purchase tickets to the Yee Peng Lantern Festival?
You can purchase your tickets here: https://yeepenglanternfestival.com.
The site looks quite dodgy (more like overly simple for such a big event), but it is completely legit – we bought ours through the site! You pay via PayPal and will receive a confirmation email upon purchasing.
A few weeks before the event, they will send you another email with more information.
You should also follow this Facebook page. They have constant updates about ticket availability for both events and the vendors who sell them. They responded to my inquiries quite quickly.
What happens during the Yee Peng Festival?
Because there isn't much to guide through, this post will not be a complete guide, more like a quick recap of my experience.
We were asked to gather at a preset location at 4:00 PM. It was at Prasert Land in the Nimman area, walking distance from our apartment so that's a nice plus!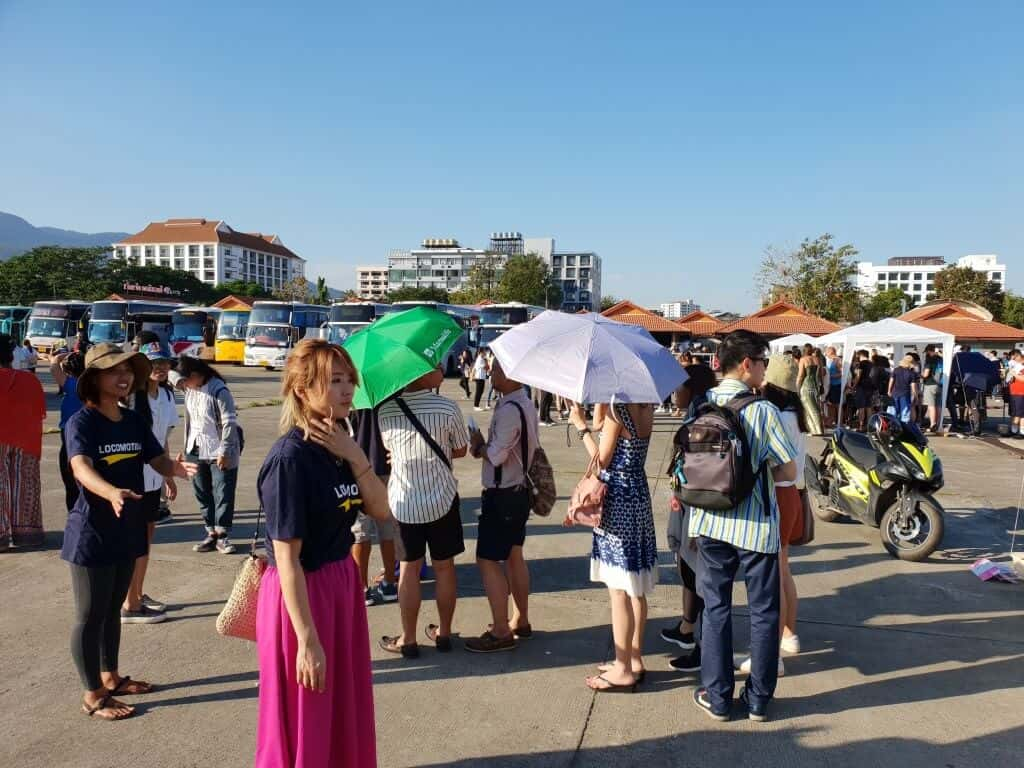 There was a special lane for VIP ticket holders. We got registered, received our wristbands and in the comfy van we go! The non-VIPs get on the buses instead.
It took about an hour to get to Doi Saket.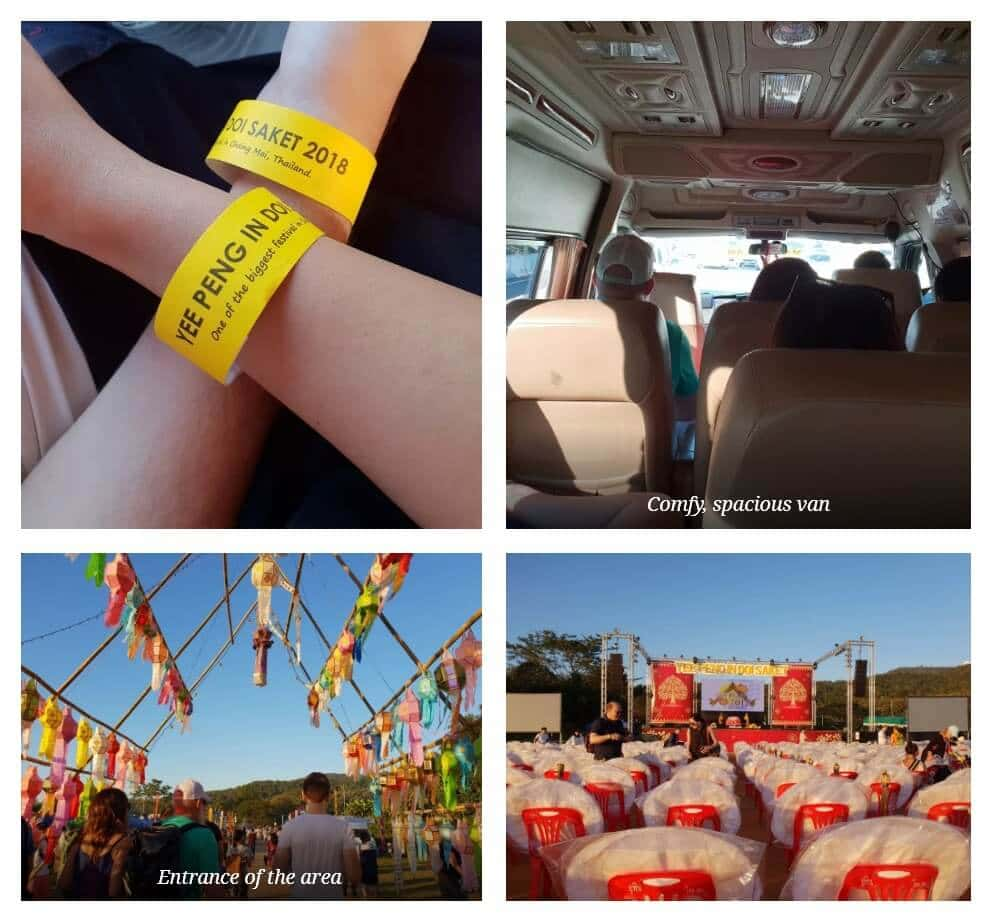 The VIP area is closest to the stage, although I personally don't think VIP seats are any better as you'll see a ton of lanterns wherever you look.
If anything, I think it's better to sit further back because performances are loud and you're nearer to the speakers.
Regardless of VIP or not, you get a specific chair based on the number on your ticket and you can't switch.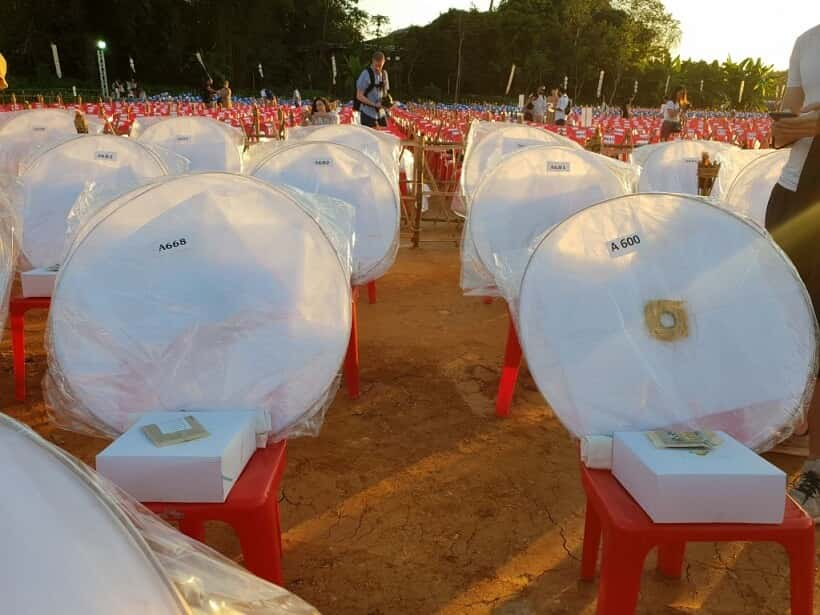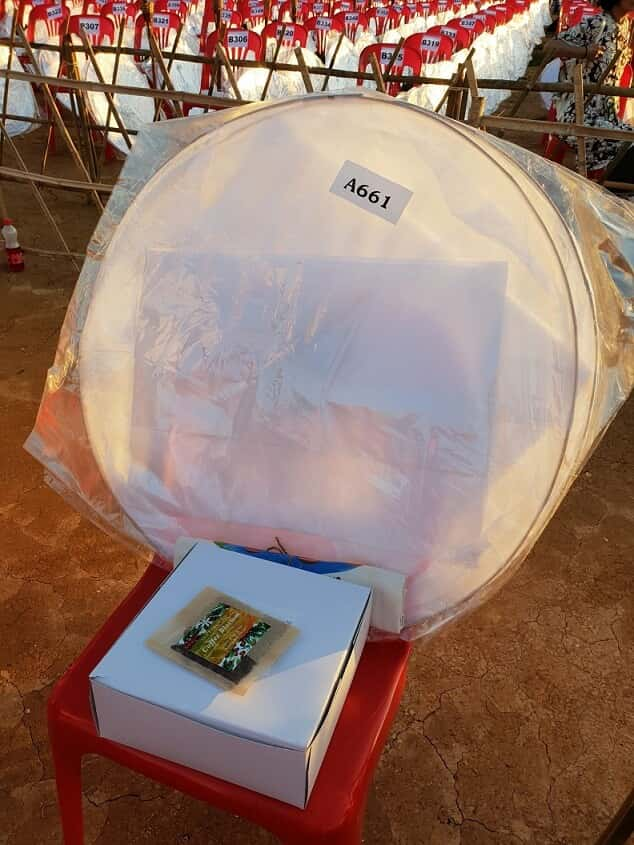 And then, we wait!
We had about 2 hours to kill. The event is actually at Doi Saket Hot Springs, so there are you know, hot springs and a canal that you can dip your feet into.
Do I really want to dip my feet in a canal of questionable cleanliness though? 🙃
Here are a few things that you can do while waiting.
Get your Instagram shots!
There is a rice paddy field that will give you some gorgeous shots. Heels are not recommended – there is a muddy patch you'd need to walk through to get to it.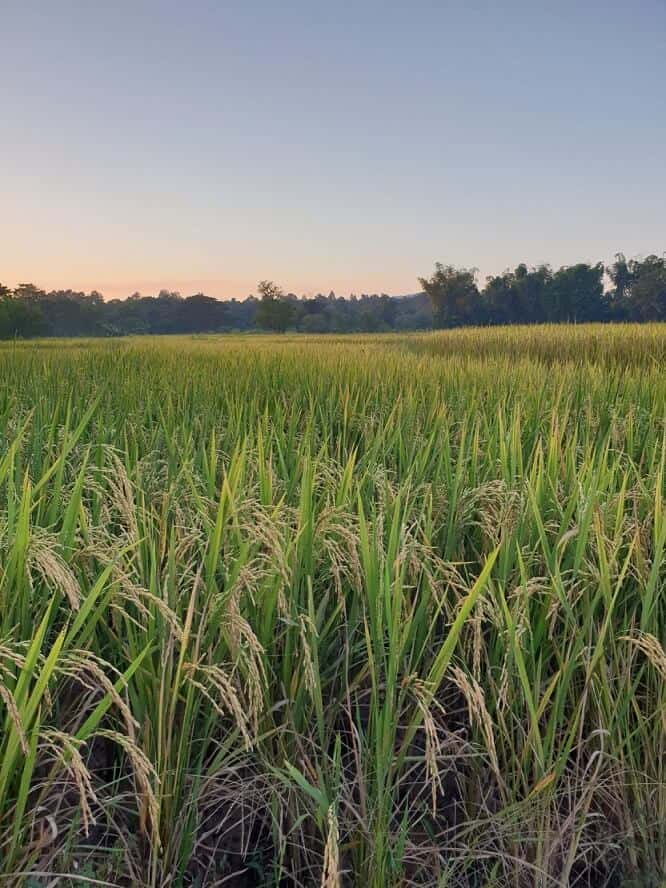 Release your Krathong at the nearby river.
Each person gets a free Krathong!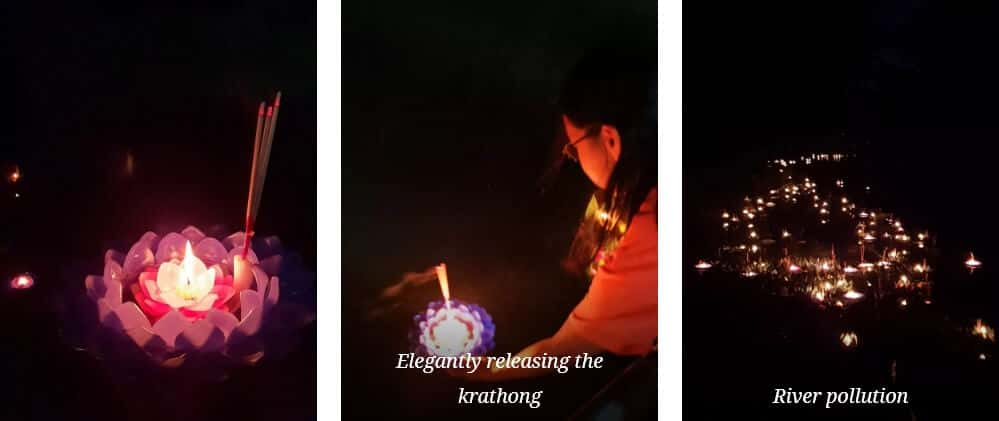 Watch performances.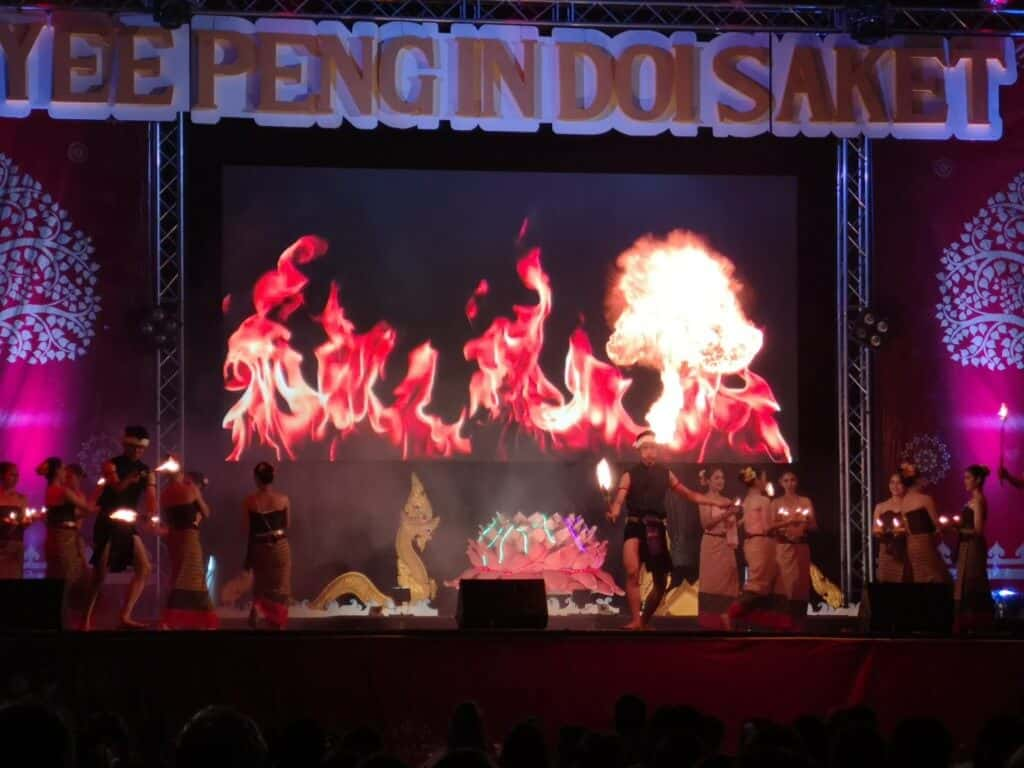 And the real deal finally begins!
15 minutes before the synchronized release of lanterns, they will show a demonstration video on how to light up and release the lanterns safely. They will tell you a million times to not light up the lantern in 4 different languages – it is purely a demonstration video – we will all release lanterns at 8:00 PM.
It is at this point in time that you realize some people are incapable of listening to instructions and release their lanterns prematurely anyway.
And at 8:00 PM, we release the lanterns together. It is not really, fully synchronized, as some lanterns take longer than others to be filled with hot air to float properly.
But with thousands of them, you get this view regardless…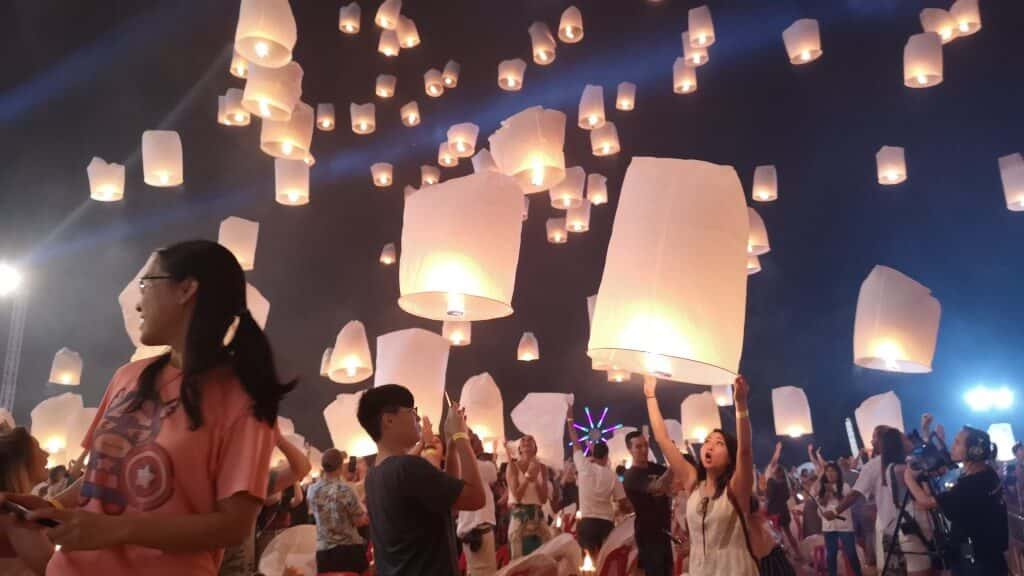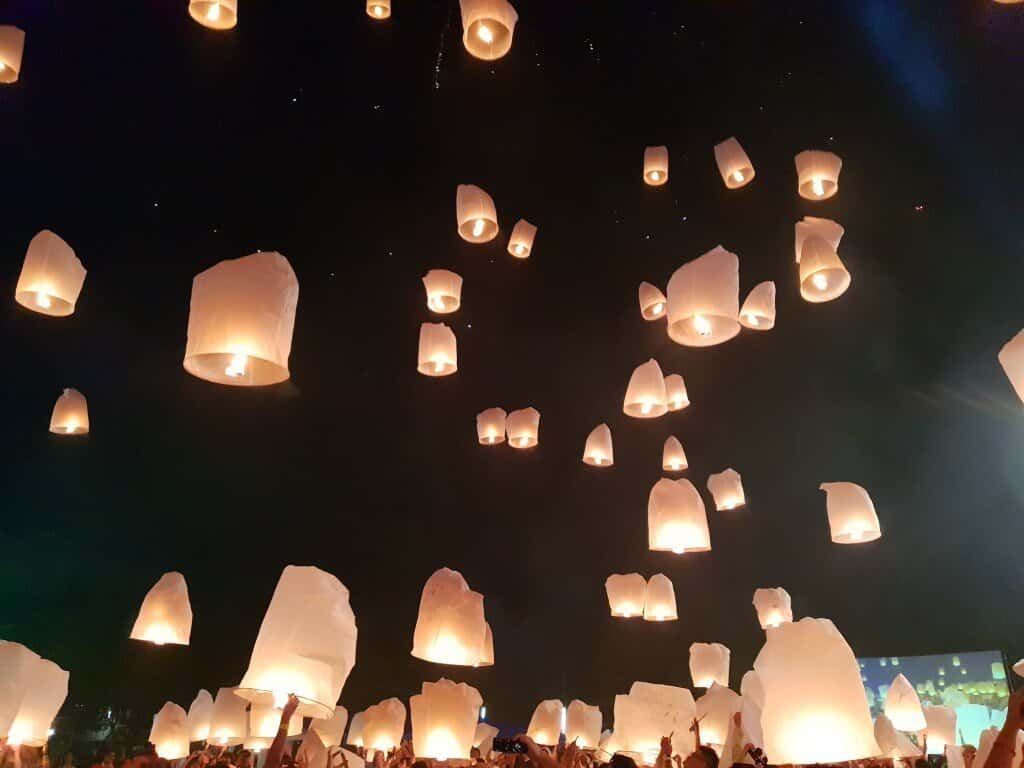 And within a minute, you get this…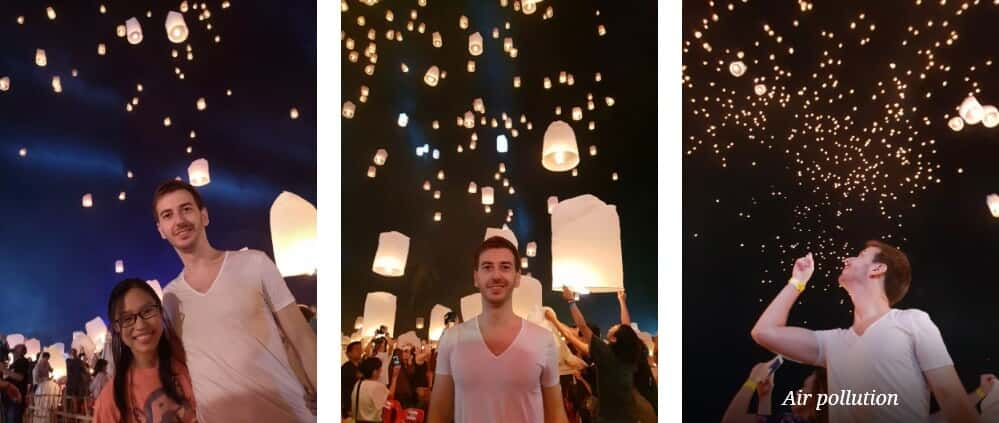 Tip: The first two to three minutes is the best time to take photos as there are a heck tons of lanterns. Any later, people are lighting up the rest of their lanterns at their own pace, so there aren't as many lanterns in one photo.
Oh and there are fireworks too!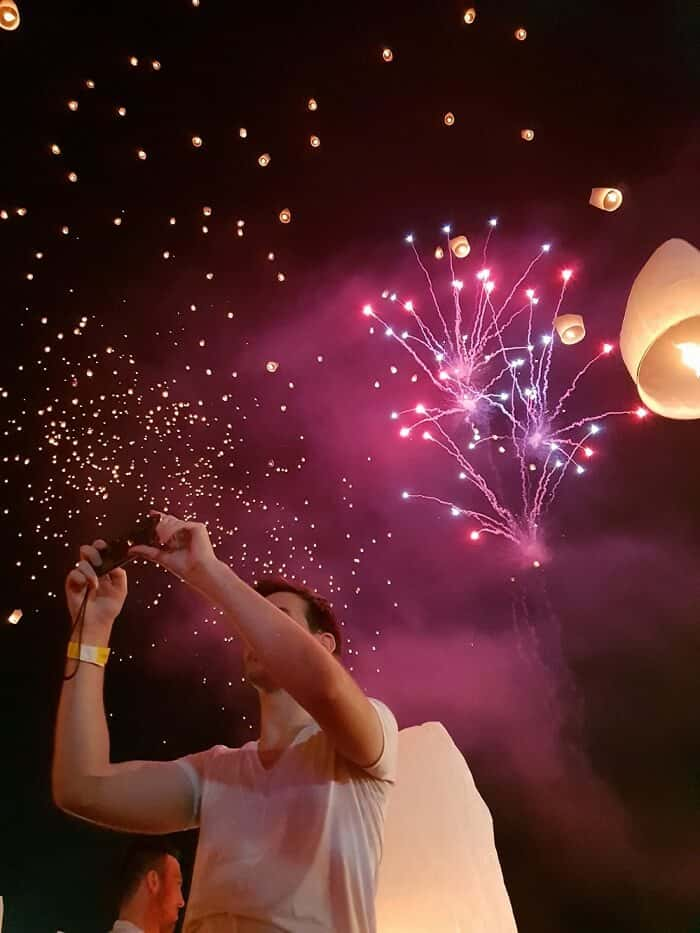 After taking a lot of photos, back to work again…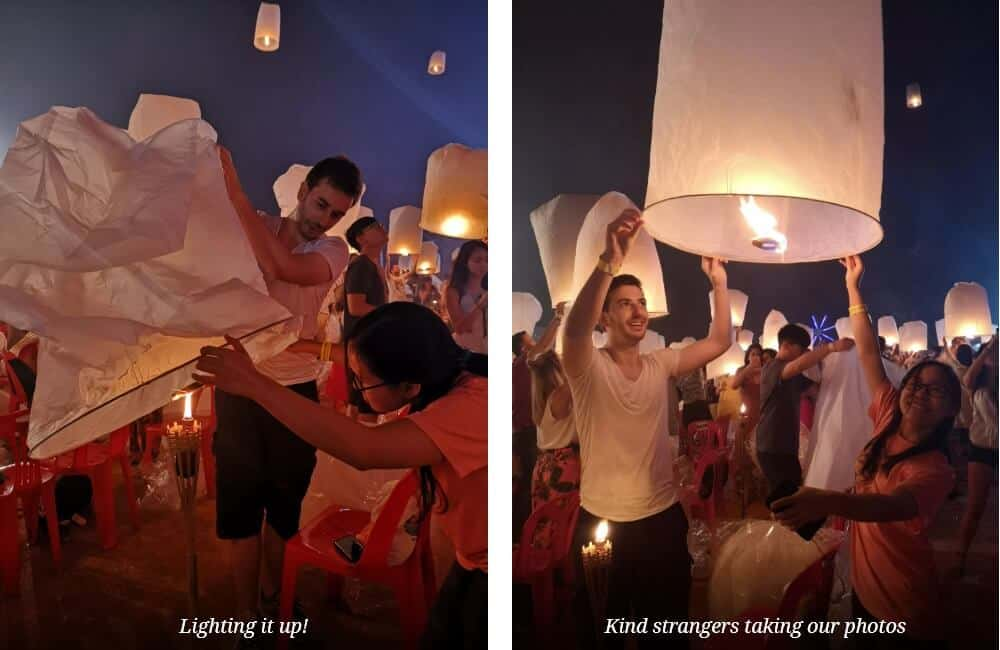 I'll have you know that if you're a professional photographer with amazing photo editing skills, you can get something like this…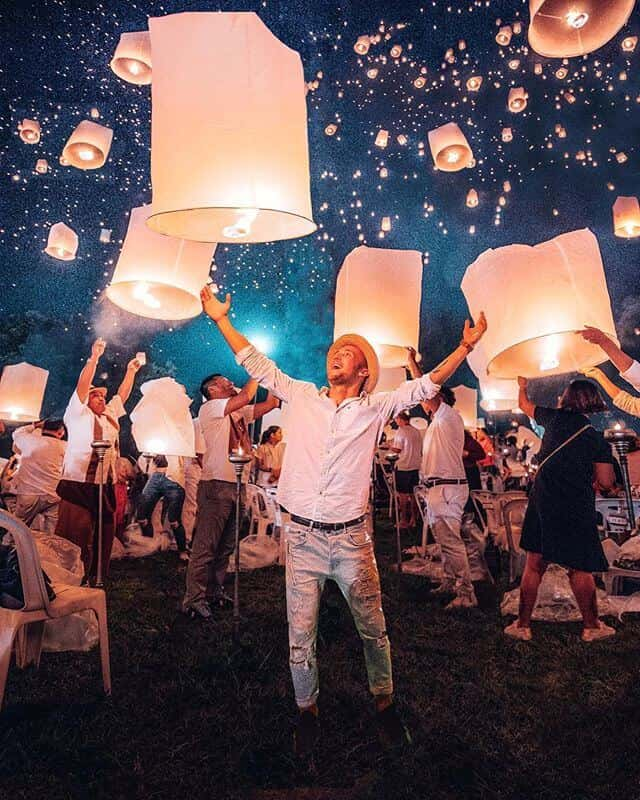 … but for the rest of us, this is the best we can do.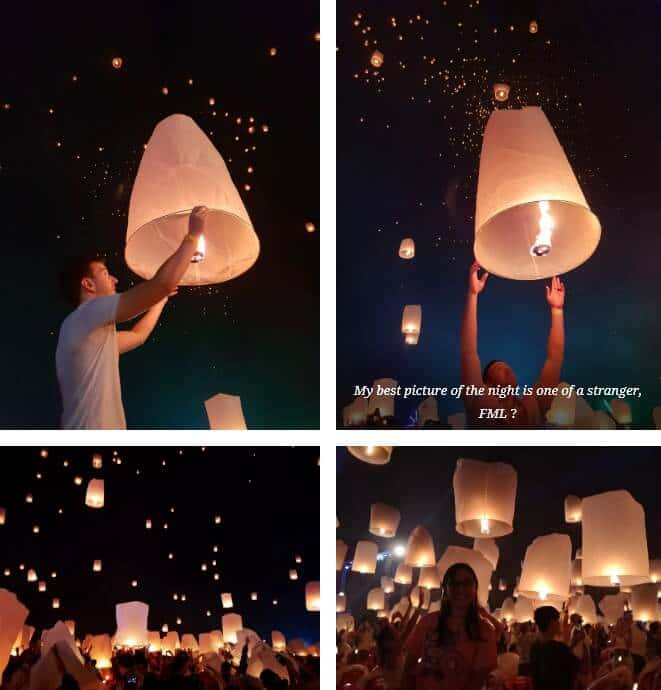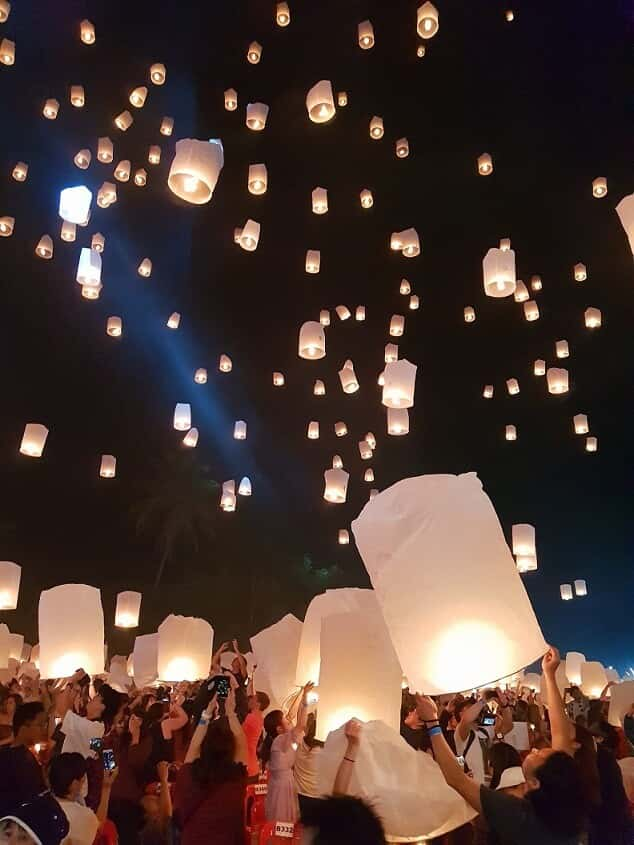 Still fucking amazing, though!
Annnnd, you head home with a happy memory!
---
Wait, what about toilets?
There are portable toilets. There aren't many though, and the queue is always quite long.
Most just assume the portable toilets are the only option. However, Doi Saket Hot Springs actually has clean restrooms after the feet-dipping canal at the end of the road. They are clean, at least when I went during the beginning of the event.
---
Should I get the VIP Ticket?
Here's a comparison of a VIP vs Standard Ticket.
| VIP Ticket | Standard Ticket |
| --- | --- |
| – 2 sky lanterns per person 👍 | – 1 sky lantern per person |
| – Priority to leave the venue 👍 | – 1 Krathong |
| – A Premium Flower Krathong | – 1 Souvenir |
| – A Premium Souvenir | |
| – Special Dinner Set | |
| – Beverages | |
In my opinion, the only good thing was that we could immediately leave the venue after the event. 2 sky lanterns was a plus, but in between all the posing and photo-taking, we took a while to release all 4 lanterns.
The staff even approached us thinking we needed help as we took our sweet time releasing the lanterns. I would have been happy even if we were given one lantern per person.
Premium Souvenir? Ehhhh. Tea leaves and a bag.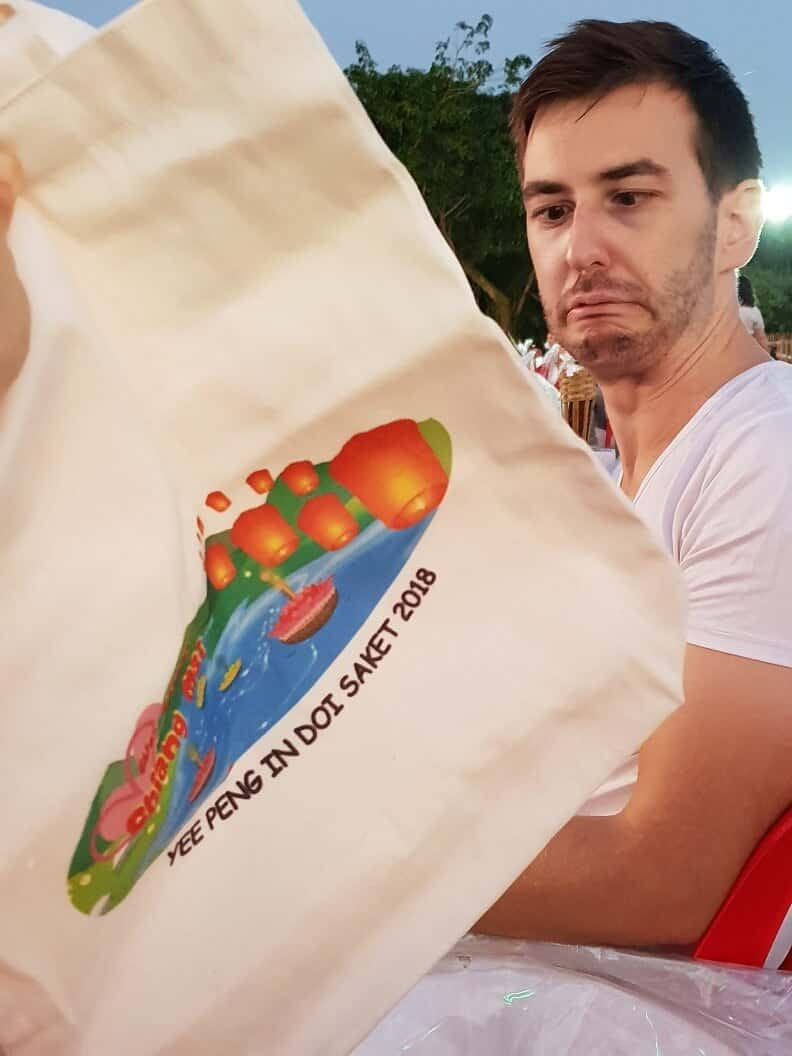 The dinner provided was pretty basic. There are food stalls for you to purchase food and drinks for standard ticket holders. I do enjoy Thai food and it made me wish I didn't have the free dinner so I could buy myself a serving of Pad Thai. First world problems 😩
They do give a shit ton of drinks as well – bottles of water, orange juice and coffee… and free tea served at the staff tables. Enough for the night and your breakfast the next morning.
Bottom line, is the VIP ticket worth it? Not really, but if time === money for you and USD $40 is an acceptable expense, you should get it for the priority to return first.
---
This private event is too expensive. Are there other options?
If you just want to experience releasing a sky lantern, you can purchase a sky lantern at some places (the area between Tha Pae Gate and the Mae Ping River is quite popular) in the Old City for about 80 THB (USD $2.50).
Note that there are no organized events; hence, no synchronized lantern releases. Perhaps gather a bunch of friends (a lot of them) and hold a synchronized event yourself? 😬
I'm on the fence. Is this really worth the money?
Yes, unfortunately for your wallet, this event really is quite spectacular.
If you have been to a festival before where there are at least one thousand sky lanterns released, perhaps you can skip this.
But if this is your first time, this festival. is. it.